Amazon Wants 'Acceptable Business Terms' to Offer Prime Video on Apple TV
At Recode's Code Conference today, Amazon CEO Jeff Bezos was asked why the online retailer does not sell either the Apple TV or Google Chromecast. Bezos reiterated that Amazon chooses not to sell video streaming devices that do not include Prime Video capability and that the company wants "acceptable business terms" before bringing the the app to devices.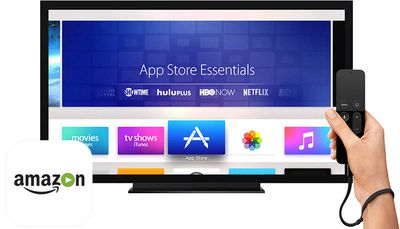 We sell Roku, we sell Xbox, we sell PlayStation. We're happy to sell competitive products on Amazon and we do it all day. We sell Nest thermostats. When we sell those devices, we want our Prime Video player to be on the device and we want it to be on the device with acceptable business terms. We can always get the player on the device, the question is whether you can get it on with acceptable business terms. And if you can't, we don't want to sell it to our customers because they're going to be buying it thinking you can watch Prime Video and then they're going to be disappointed and then they're going to return it.
When pressed by The Verge's Nilay Patel on whether "acceptable business terms" meant paying Apple's 30 percent cut on in-app purchases and subscriptions, Bezos declined to answer, only stating that he wanted to keep private business discussions private.
Amazon ceased selling the Apple TV and Google Chromecast last October, saying that it was important for Prime Video to interact with streaming devices it sells to avoid customer confusion. In November, Amazon confirmed to engineer Dan Bostonweeks that a Prime Video app was in development, with the company saying that it hoped to launch the app by the end of 2015.
While the app didn't launch for Apple TV, Amazon did
debut a standalone
Prime Video streaming service for $8.99 a month, allowing users to subscribe to the service without signing up for the annual $99 Amazon Prime bundle, which includes free shipping from the company's retail store, unlimited streaming music and more.
Amazon Prime Video for iOS is available in the App Store for free and accessible by Amazon Prime members. The service is also available on Android, Fire OS, Amazon Fire TV, PlayStation 3, PlayStation 4, Xbox 360, Xbox One, Wii, Wii U, the web and select TVs and Blu-ray players from LG, Panasonic, Samsung, Sony and Vizio.