Apple CEO Tim Cook continued his week-long visit to India today by meeting with Prime Minister Narendra Modi to discuss manufacturing and retail opportunities, as well as launch a new state mobile app (via The Times of India).
During the meeting at the Prime Minister's official residence, Modi explained his Digital India initiative and asked Apple to support its key objectives of e-education, health, and increasing farmer's incomes. The PM also reportedly raised issues with Cook regarding cyber security and data encryption in India.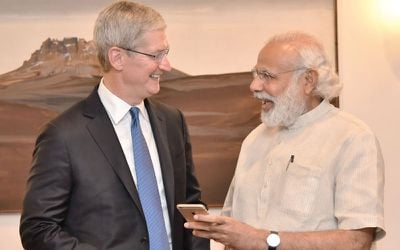 Apple CEO Tim Cook meets Prime Minister Narendra Modi. (Image: PIB)
Cook took the opportunity to express his appreciation for the country's skilled younger generation and emphasized Apple's desire to tap into the talent of India's youth. Cook also commented on the potential for app development that exists in the country and highlighted the importance of the Map Development Centre that
Apple is setting up in Hyderabad
.
In addition, Cook helped launch an updated version of the Prime Minister's 'Narendra Modi Mobile App', which aims to offer a direct channel of communication with Indian citizens as part of a broader vision for participative governance.
The app contains a new feature called 'My Network', which is described as an online volunteering forum where app users can share views and ideas. Additionally, the app functions as a ministerial news service and logs the Prime Minister's speeches, while users can also keep up with episodes of PM radio program 'Mann Ki Baat' and even write to the Prime Minister.
Modi took to Twitter to thank Cook for helping launch the updated app and urged followers on social media to get involved. Cook responded by thanking the PM and offered his best wishes for the app's success.
As part of the day, Cook also met Sunil Mittal, chairman of Bharti Airtel, one of India's leading telecommunication companies which was the first to launch 4G in India and is set to offer the service countrywide.
The PM meeting is being reported as a high point for Cook's Indian visit and a strengthening of Apple's relationship with the country. In an interview with an Indian TV channel on Friday, Cook asserted that he was looking at India holistically and Apple was "here for the next thousand years".