OLED Supplier Sees Fourfold Leap in Orders as Apple Gears Up for 2017 iPhone
As Apple gears up to introduce OLED displays in the 2017 iPhone, the impact is already being felt in the company's supply chain. During a recent earnings call, Applied Materials, a company that creates equipment for making displays, reported a fourfold increase in orders.
According to Bloomberg, the growing demand for new display manufacturing equipment from Applied Materials serves as evidence that display makers are retooling their processes to produce OLED displays for Apple's line of iPhones in 2017.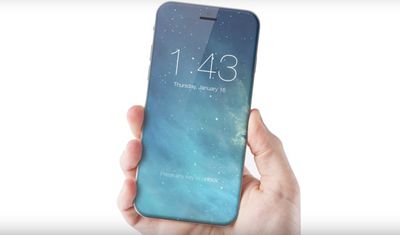 Edge-to-edge iPhone concept image via ConceptsiPhone


Applied Materials executives did not mention Apple by name during the earnings call, but CEO Gary Dickerson dropped some hints in a statement given to Bloomberg, pointing towards long term, sustainable growth and naming the "leader" of mobile products.
"It's not a peak or a one-time event," said Applied Materials Chief Executive Officer Gary Dickerson. "This is going to be sustainable growth. We all know who is the leader in terms of mobile products."
Applied Materials says it takes as long as three quarters to build, deliver, and install its machines, so a ramp up in purchases now means display suppliers are preparing to make some major changes in the coming months.
There are a wealth of rumors suggesting Apple will debut OLED displays in the 2017 iPhone. Apple has already inked a deal with Samsung to secure 5.8-inch OLED displays for future iPhones, and the company may also be preparing to purchase displays from suppliers like AU Optronics, LG Display, and Sharp. Apple is the largest customer for Sharp, LG Display, and Samsung, and all three companies have ramped up display spending in recent months, according to Bloomberg.
An OLED display would eliminate the need for the backlighting that's used in traditional LCDs, allowing Apple to cut down on the thickness and weight of the display used in the iPhone 7. OLED displays also offer better contrast ratio, truer colors, improved viewing angles, better power efficiency to maximize battery life, and a faster response time than an LCD for faster refresh rates.
While the 2017 iPhone is more than a year away, there have already been dozens of rumors about the device due to the significant changes Apple is planning to introduce. Some of the features rumored for the 2017 iPhone (perhaps called the "iPhone 8") include wireless charging, an edge-to-edge bezel-free display with an integrated Touch ID fingerprint sensor, a glass body, and more advanced biometric features.