Apple has announced that its downtown San Francisco store at 1 Stockton Street is closing on Friday, May 20 at 9:00 p.m. Pacific, ahead of the grand opening of its new flagship Union Square location on Saturday, May 21 at 10:00 a.m. Pacific.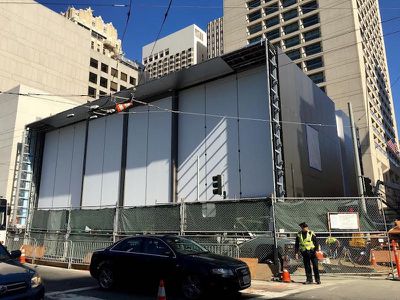 Apple's new Union Square store in San Francisco under construction (Image: Curbed SF)
The new Union Square store at 300 Post Street, just three blocks down Stockton Street from the existing store, has been
planned since 2013
and under construction for over two years. The store will feature Apple's next-generation store design adopted at its new and renovated retail stores like Brussels and Memphis since 2015.
Union Square is the focal point of San Francisco's high-end shopping district, located above the city's work-in-progress Central Subway project.