Apple Promotes New Apple Music API Introduced in iOS 9.3
With the launch of iOS 9.3, Apple introduced a new Apple Music API, which is today being promoted through Apple's Affiliate Program Newsletter. The Apple Music API gives developers the resources to expand Apple Music functionality in their apps, through the following features:
- Developers can see if a user is currently a member
- Developers can see which country the users account is based
- Developers can queue up the next song or songs based on a song ID for playback
- Developers can inspect playlists already in My Music or create a new playlists with a title and description (see App Store Review Guidelines for limitation)
The iOS 9.3 Apple Music API has already been built into several music-related apps, such as Shazam. The API is what enables Shazam and other music apps to do things like add songs to Apple Music playlists from directly within the Shazam app.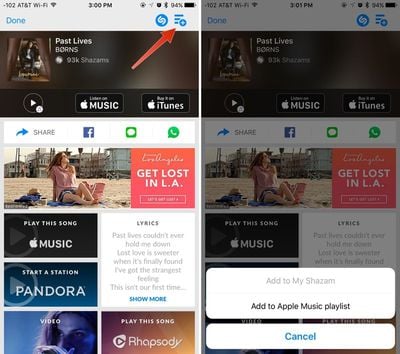 As noted by MacStories, Apple has also launched a new Apple Music Best Practices webpage for app developers and expanded App Store Review Guidelines for Apple Music. According to Apple's guidelines, apps using the Apple Music API are subject to the following restrictions:
- Apps using the Apple Music API that trigger playback without explicit user action will be rejected
- Apps using the Apple Music API must expose and respect standard media controls such as "play," pause," and "skip"
- Apps using the Apple Music API may not require payment or otherwise monetize access to the Apple Music service (e.g. in-app purchase, advertising, requesting user info)
Apple's developer page on Apple Music also includes technical documentation on using the new Apple Music APIs, a link to the Apple Music Toolbox for finding embeddable widgets, and guidelines on how to refer to Apple Music and portray the Apple Music service within apps.