Popular music discovery app Shazam has been updated to version 9.4.1, gaining the ability to add songs to an Apple Music playlist. With the new version of the app, Shazam can connect to Apple Music and add songs that are discovered right to an Apple Music playlist without leaving the Shazam app.
For those unfamiliar with Shazam, it is a popular app that is able to identify music that is playing, offering up song titles, music videos, and more.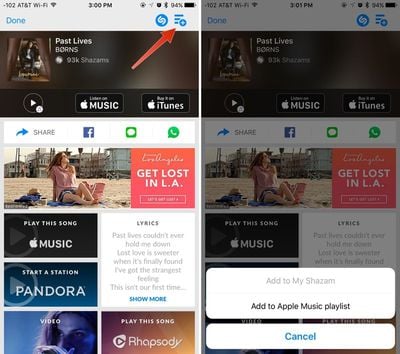 The new feature requires iOS 9.3, as the update enabled the ability for third-party apps to access Apple Music playlists. To use the feature, Shazam will need to be given permission to access and connect to Apple Music through the settings section of the app.
Once authorized, a song recognized by Shazam can be added to a playlist by tapping the "+" symbol in the upper right of the app. Songs can also be played in Apple Music, used to start a radio station, or opened in iTunes. Songs added to Apple Music are listed under a "My Shazam Tracks" playlist. Today's update also gives Apple Music subscribers the ability to listen to a song in full without leaving the app.
The new version of Apple Music is here - and it makes for an even better Shazam experience! Once you've upgraded to iOS 9.3, connect to Apple Music in Shazam settings and you'll be able to:

- Add any Shazam track to any of your Apple Music playlists.
- Find all your Shazams conveniently saved to a 'My Shazam Tracks' playlist in Apple Music.
- Listen to any song in FULL, without leaving Shazam!
Shazam can be downloaded from the App Store for free. [Direct Link]