Apple Launches CareKit Platform With Support for Four Health Apps
Apple's new CareKit iOS framework goes live today, allowing app developers to create integrated software that helps patients and doctors to better track and manage medical conditions.
The open source platform was announced last month and aims to make it easer for developers to build health apps by offering a number of integrations, such as monitoring of medical symptoms, sending images of an injury, and keeping tabs on medication schedules. CareKit also offers two-way benefits, since it not only helps doctors monitor patients but also allows patients to observe their progress over time.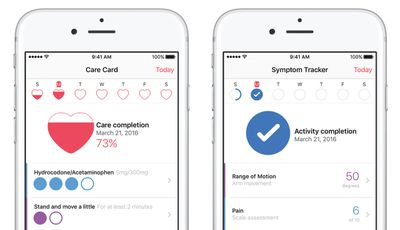 CareKit is made up of series of interactive modules. The Care Card can be configured to manage wellness tasks such as medication scheduling and exercise, while the Progress Card includes a Symptom and Measurement tracker for logging physical metrics like weight and heart-rate (with the potential for Apple Watch integration). The Connect module meanwhile lets users share their health data with medical professionals and family members, and can be viewed in tandem with Progress Card data in the Insight Dashboard module.
TechCrunch reports that the launch is limited to support for four iPhone apps at present: Glow Nurture fertility tracker, Glow Baby maternity app, diabetes monitor One Drop, and depression medication tracker Start. CareKit is compatible with existing healthcare record systems such as Epic and should be available on GitHub later today.
Apple's other open source framework ResearchKit was made available to developers in April 2015, enabling them to create their own iPhone apps for medical research purposes. The framework has led to some significant gains in epilepsy and asthma research since its adoption among medical professionals and contributing patients.