Decline in iPhone Shipments Could Make Apple Worst-Performing Top Five Smartphone Brand of 2016
Apple's global iPhone shipments will fall short of analysts' consensus estimates of 210 to 230 million units in the 2016 fiscal year, according to a new research note issued by respected KGI Securities analyst Ming-Chi Kuo. In a worst case scenario, iPhone shipments in 2016 are expected to reach just 190 million units, which is an 18% reduction in shipment growth and 3 million fewer iPhones than Apple sold in 2014.
Even in a best case scenario, said Kuo, Apple is expected to sell 205 million units, 5 million short of the lower end of analysts' estimate range and amounting to a 11.6% reduction in growth. Regardless of the best or worst case scenario, Kuo predicts Apple will underperform the industry and become the only global top-five smartphone brand to see shipments decline in 2016.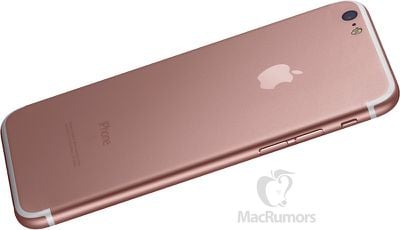 Mockup of iPhone 7 case.
The analyst described slowing market demand for large-screen handset replacements and limited iPhone 7 selling points as key factors behind the expected decline, noting that the contribution of revised-up iPhone SE shipments in the 2016 fiscal year will remain "insignificant".
Given the fact that shipments fell YoY for the first time in 1Q16, we don't think large-screen replacement demand will contribute much to growth. To sustain growth, the iPhone needs to come up with more innovative features to revitalize the user experience, for example in form factor design, software and hardware specs. We don't see many attractive selling points for iPhone 7 in 2H16 and are conservative on 2H16F shipments. While we revise up 2016F iPhone SE shipments from 12mn to 18mn units, this won't offset overall iPhone shipments decline.
Kuo's note predicts that out of Samsung, Apple, Huawei, Oppo, and Vivo, only Apple will see shipments fall year-on-year, which suggests to KGI Securities that the decline in iPhone sales can't be solely blamed on industry structure.
"While we believe the high-end smartphone market still has room for growth, the development of a newer, more innovative user experience is a prerequisite for growth," said Kuo. "We believe only iPhone will see shipments fall YoY in 2016, for three reasons: (1) intensification of market competition; (2) time needed for commercialization of new user experience technologies; and (3) iPhone needs a makeover (e.g. form factor design) to keep attracting consumers."
As far as a handset makeover is concerned, rumors indicate the iPhone 7 will share a design similar to the iPhone 6s, but may be slightly thinner, perhaps through the removal of the 3.5mm headphone jack and the implementation of a thinner Lightning port. Antenna bands across the back of the device may be removed, but are expected to remain at the top, bottom, and sides of the iPhone, while the rear camera may be flush with the case.
Other rumors suggest Apple may be planning to introduce two versions of the iPhone 7 Plus – one with a single lens and a second with a dual-lens camera system that offers DSLR-like image quality with 2-3x optical zoom and improved performance in low light conditions. Whatever form the iPhone 7 takes, Apple will be hopeful of exciting consumers in ways that perhaps the iPhone SE could not, as the company strives to overcome what some commentators have called "peak iPhone".
Apple's earnings announcement for the second fiscal quarter (first calendar quarter) of 2016 takes place on Tuesday, April 26, and will provide a look at sales of the iPhone 6s, 6s Plus, and SE following Apple's record first quarter, which saw the company announce 74.8 million iPhone sales and $18.4 billion profit on $75.9 billion in revenue.
Apple has warned that iPhone sales will decline in the March quarter and has provided Q2 2016 guidance of $50 to $53 billion in revenue and gross margin between 39 and 39.5 percent. Should Apple only take in $50 to $53 billion, the company will see its first year-over-year revenue drop in 13 years.