Apple today updated its investor relations page to note the earnings announcement for the second fiscal quarter (first calendar quarter) of 2016 will take place on Tuesday, April 26 instead of Monday, April 25 as was previously announced last month.
It is not clear why Apple has moved the date of the earnings call by a single day, but it will now take place next Tuesday instead of next Monday.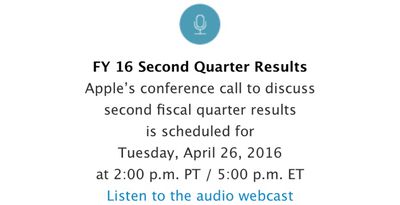 The earnings release will provide a look at sales of the iPhone 6s, 6s Plus, and SE following Apple's record first quarter, which saw the company announce 74.8 million iPhone sales and $18.4 billion profit on $75.9 billion in revenue.
Apple has warned that iPhone sales will decline in the March quarter and has provided Q2 2016 guidance of $50 to $53 billion in revenue and gross margin between 39 and 39.5 percent. Should Apple only take in $50 to $53 billion, the company will see its first year-over-year revenue drop in 13 years.
The quarterly earnings statement will be released at 1:30 PM Pacific/4:30 PM Eastern, with a conference call to discuss the report taking place at 2:00 PM Pacific/5:00 PM Eastern. MacRumors will provide coverage of both the earnings release and conference call on April 26.
Update: According to Apple, the earnings call is delayed because of a memorial service for Bill Campbell, who passed away earlier this week.