HP Claims Innovation Over Apple With 'World's Thinnest Laptop'
Amid rumors that Apple is working on ultra-thin 13 and 15-inch "MacBooks", HP yesterday announced the "world's thinnest laptop" in the form of the Core-i powered 13.3-inch Spectre, with a design that the company said offered proof that it is driving innovation faster than Apple.
Created with a focus on "luxury and artisanal craftsmanship", the HP Spectre is 10.4mm thick and weighs in at 2.45lbs, sporting a twin-tone aluminum and carbon fiber chassis with an edge-to-edge Corning Gorilla Glass IPS 1080p display. Apple's 12-inch Retina MacBook is 13.1mm thick and weighs 2.03lbs by comparison.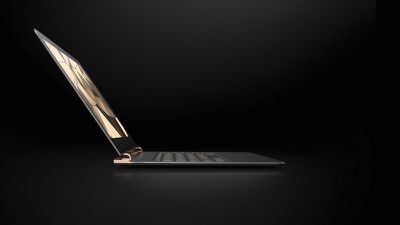 The copper and dark gray body has contrast bronze edging and a full-size, recessed backlit keyboard with 1.3 mm travel, and includes a pair of arcing piston hinges that fold flush for a "nearly hingeless look" when the laptop is closed. HP says the design is inspired by high-end furniture details.
The laptop is powered by an Intel Core i5 or i7 Skylake processor, rather than the significantly slower ultra low-voltage Core M CPU specifically designed for ultra-thin notebooks and found in the 12-inch MacBook.


HP claims this is made possible by the Spectre's integration of Intel's "breakthrough hyperbaric cooling system", which features two ultra-thin fans, a heat-pipe and a copper radiator, allowing the system to not only extract heat but also draw in cool air and direct it over the processor.
HP used two differently sized polymer batteries in the Spectre, making up four cells in total for a claimed battery life of up to 9.5 hours. HP also used a new variant of its logo on the rear of the display to set apart the laptop from its other ranges.


Other specifications include a glass trackpad, three USB-C ports (two of which support Thunderbolt 3), up to 512GB PCIe SSD storage, a maximum of 8GB RAM, dual speakers part-designed by Bang & Olufsen, and Intel HD Graphics 520. Early indications are that the SSD and memory are soldered onto the mainboard, suggesting HP sacrificed repairability for thinness.
HP says the Spectre will be be available for pre-order on April 25 and begin shipping sometime in May. Prices will start at $1,170. In addition, a Bluetooth mouse, carry bag and leather sleeve that match the design of the Spectre notebook will be sold as accessories.


Speaking ahead of the Spectre's unveiling at the New York Times' International Luxury Conference in Paris, the company's PC chief Ron Coughlin said that the laptop is an example of HP's determination to lead the way in the PC industry. "For years, Apple has been seen as the innovator and the driver of innovation [but now] HP is really taking over that mantle," Coughlin said.
HP has had to defend its laptops in the past over perceived design similarities with Apple's notebooks, but the company is clearly attempting to push its latest "luxury" model as a trendsetter in the premium PC laptop market. At the CES in January, HP unveiled its more business-focused Elitebook Folio, measuring less than half an inch in thickness.


A recent DigiTimes report claimed that Apple's upcoming "ultra-thin" MacBooks will "share a design similar to the existing 12-inch MacBook" and be "thinner than [the] existing MacBook Air," but failed to specify which MacBook lineup the new design is destined for.
New Macs could feasibly be introduced by WWDC 2016, which will likely take place between June 13-17 based on scheduling information available from the Moscone Center.
Apple's refreshed Mac lineup is expected to feature Intel's faster Skylake processors and Thunderbolt 3 with USB-C, while the MacBook Air and MacBook Pro are also deserving candidates for an overall redesign.