Apple, Tesla Fighting Over Top Employees
Apple and Tesla have been battling to recruit top talent from each other, according to a new report from Bloomberg Business. Tesla has hired at least 150 former Apple employees, more than they have from any other company.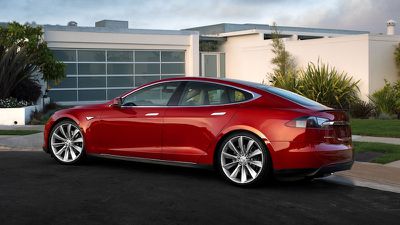 The company has hired at least 150 former Apple employees, more than from any other company, even carmakers. The former Apple staffers work in many areas of the 6,000-employee automaker, including engineering and law. "From a design philosophy, [Apple] is relatively closely aligned," says Musk, Tesla's co-founder and chief executive officer. Apple declined to comment for this story.
Former Apple employees say their decision to join Tesla was based on the company's electric cars and CEO Elon Musk, who is a similar figure to Jobs. Like Jobs, Musk pays a great deal of attention to the details of his products and is a strong, visionary leader. Musk reportedly has a soft spot for Apple and enjoys comparisons to Steve Jobs as well, one former Tesla employee tells Bloomberg.
Apple's influence can be felt in the 17-inch touchscreen installed in Tesla's cars as well as its retail stores, both of which had former Apple employees in key roles. High profile former Apple employees at Tesla include Doug Field, Apple's former VP of Mac Hardware Engineering, who leads new vehicle development at the car company. Using top Silicon Valley talent, like former employees at Apple, allows Tesla to get a leg-up on competitors in the automobile industry.
While Tesla has had success recruiting talent from Apple, Musk says that Apple has hired "very few people" from the car company despite offering $250,000 signing bonuses and 60 percent salary increases to its employees.
Apple and Tesla have interacted in the past, with a report emerging in February 2014 that Apple had considered purchasing Tesla. Musk also revealed the two companies have had "conversations", though it isn't known whether those were about a potential acquisition, iOS integration in Tesla cars or battery technology.
The report also provides an interesting look into other ways Apple has influenced one of the most talked about companies in Silicon Valley and is worth reading at Bloomberg Business.