Apple News Format Expands to All Publishers for Richer Media Experiences
Apple today opened up its Apple News Format to all publishers, giving independent publishers and individuals tools to offer rich media content within the Apple News app for iOS 9, as noted by Vanity Fair.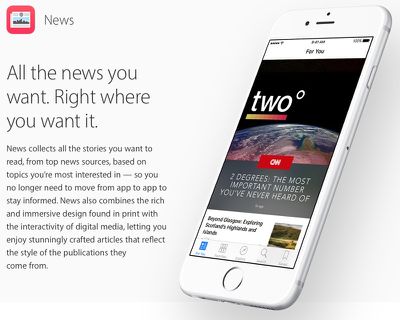 Apple News launched as part of iOS 9, offering a one-stop location for users to keep up on news on various topics from a number of different sources. Any publication with an RSS feed could apply to be included in Apple News, but initially only a select group of major publications was given access to the Apple News Format that allowed for much richer content to be included in their feeds.
Since Apple launched the app in September, it has attracted more than 100 major publishers as partners, including this magazine's Web site. What the new launch means is that anyone—from individual bloggers to smaller, independent news organizations—will be able to edit and deliver their stories, videos, galleries, and audio in the Apple News format, with Apple News's reach.
As highlighted by Wired, Apple is also rolling out a new analytics dashboard for Apple News publishers, giving them access to data on users viewing their content on the platform.
Apple should be updating its News Publisher portal shortly with details on how publishers can take advantage of the new format for maximum impact.