ExxonMobil Now Supports Apple Pay in 'Speedpass+' App
Following an announcement in January, ExxonMobil today officially launched Apple Pay support within its Speedpass+ iOS app, letting customers pay for gas or car washes directly from their iPhone (via CNET). Although most of ExxonMobil's stations come equipped with an RFID station for mobile payments, the company decided to focus on software within the app to further streamline the transaction process.

"Anything that involves the pump from a hardware point of view takes years to deploy and is extremely expensive," Bryant Russell, Americas program manager for mobile payment and loyalty at ExxonMobil, said during a demo of the app at the San Mateo gas station.
The rollout today will be seen at more than 6,000 ExxonMobil gas stations in 46 states, with a goal to expand to 2,000 by the summer and all 10,000 locations across the United States by the end of 2016.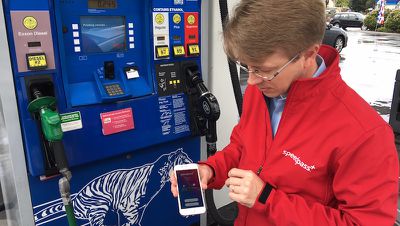 The Speedpass+ app will use GPS to check the exact location a user is at, ask which pump they are using, and confirm the purchase with Touch ID. Locations with spotty GPS will be guided through a QR code-scanning step or manual search process within the app.
Once payment in the app is finished, users have "about 45 seconds" to start pumping gas, or Speedpass+ will time out and require users to start over from the beginning. Similar to Apple's own Wallet app, Speedpass+ will track the purchase history of every transaction at ExxonMobil locations.
Last year, Chevron launched a
pilot program for Apple Pay
-- using NFC terminals -- in a focused location within the Bay Area. ExxonMobil's widespread introduction of Apple Pay today is the first big rollout for the mobile payment service by a gas company to date, despite its software-focused rollout. Next, the company plans to begin introducing Apple Pay into its convenience stores along with linking its Plenti loyalty program to the service.
The Speedpass+ app can be downloaded from the App Store for free. [Direct Link]