Apple supplier Foxconn has reportedly offered around $5.3 billion (¥625 billion) to purchase troubled Japanese electronics maker Sharp, according to The Wall Street Journal.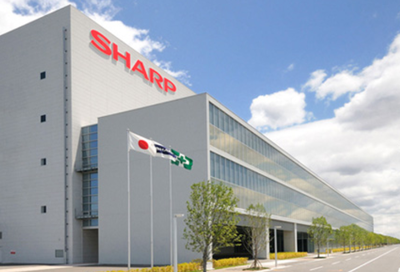 The report claims that Sharp is also reviewing a competing offer from the Innovation Network Corporation of Japan (INCJ), possibly in the range of $2.5 billion (¥300 billion). INCJ already owns a controlling stake in Japan Display, a joint venture formed in 2012 by the display making divisions of Hitachi, Sony and Toshiba.
Foxconn is reportedly willing to shoulder all of Sharp's debt in an effort to persuade the company's creditors. Sharp must repay around $4.3 billion (¥510 billion) it borrowed by March, urging the company and its lenders to reach a decision by February 4, when it reports its latest quarterly earnings results, according to the report.
Sharp, which experienced a net loss of nearly $1.9 billion (¥222 billion) in the fiscal year ending March 2015, supplies Apple with LCD displays for current iPhones. The company is a leading television maker, and it also sells audio equipment, home appliances, interactive display systems for business use and more.
Foxconn could begin selling its own line of electronics if it purchased Sharp, but exactly how it plans to use the company if taken over remains unknown. Any possible implications for Apple may be short lived, as Japan Display, LG and Samsung are rumored to supply the company with OLED displays for iPhones as early as 2018.
In 2012, Foxconn chairman Terry Gou personally acquired a 38% stake in a Sharp display factory in Sakai, Japan.