Privacy campaigners held organized rallies across the US yesterday to protest the FBI's demands that Apple unlock the iPhone at the center of its San Bernardino shooter investigation.
Following on from limited protests in California last week, rallies extended from Albuquerque to Washington DC to support Apple's insistence that complying with the bureau's demands risked compromising the security of millions of users' data.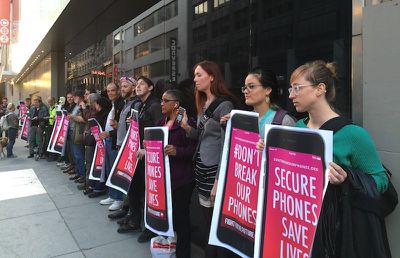 Protestors rally outside an Apple Store (Image: Cult of Mac)
Large crowds are reported to have gathered in front of Apple Stores in Boston, Portland, Reno, Seattle and Los Angeles, with protestors wearing T-shirts and brandishing signs with slogans such as "Don't break our phones". One rally at San Francisco's downtown store – the site of last week's protests – drew around 40 protestors and about 20 members of the press, beginning late afternoon and continuing into the evening.
"We're concerned that if Apple undermines its security in response to the FBI's request it will set a very dangerous precedent that could be used in any number of cases going forward, both by the US government and by international governments, including authoritarian regimes that might seek to access our information," Rainey Reitman of the Electronic Frontier Foundation told Cult of Mac.
"We're also worried that that key, once it's created, could be a honeypot for hackers that might want to seek access to information or could be misused in many diverse ways. We don't think that it's appropriate that the government order a tech company to undermine its own security in any way."

Protestors support Apple at The Grove in Los Angeles (Image: John McCoy)
The extended protests come a week after a U.S. federal judge
ordered Apple
to assist the FBI with unlocking an iPhone belonging to suspected San Bernardino shooter Syed Rizwan Farook. Apple moved swiftly to
oppose the court order
in an open letter to customers. The company has until February 26 to file its legal response.
Meanwhile, the U.S. Department of Justice is reportedly pursuing additional court orders that would force Apple to help federal investigators extract data from twelve other encrypted iPhones that may contain crime-related evidence.
The twelve cases are apparently similar to the San Bernardino case in that prosecutors have sought to use the 18th-century All Writs Act to force Apple to comply, but none are related to terrorism charges and most involve older versions of iOS software.
Note: Due to the political nature of the discussion regarding this topic, the discussion thread is located in our Politics, Religion, Social Issues forum. All forum members and site visitors are welcome to read and follow the thread, but posting is limited to forum members with at least 100 posts.