Samsung yesterday announced the opening of its new flagship store in New York City, describing it as "the flagship of the future", but in a curious twist, one which does not actively sell Samsung products.
Named simply "837" after its address in the popular Meatpacking district, the "living lab and digital playground" is a 55,000 square-foot space that includes a three-story digital screen (made up of 96 Samsung 55-inch TV sets stitched together), a 90-seat theater, a portable demo kitchen, an art gallery, a multimedia studio, and a café. Product shelves however are nowhere to be seen.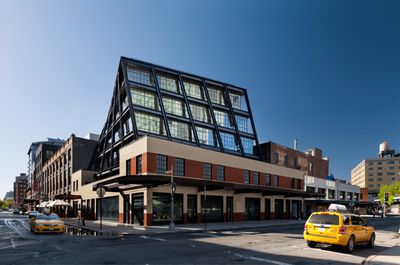 According to a Samsung
press release
, the store sets out to "reimagine the traditional store experience" and provide an opportunity for people to "experience Samsung technology and signature services in an environment that blurs the lines between live and static experiences."

"It's not about pushing products in people's faces," explained Zach Overton, General Manager of Samsung 837, speaking to
Fast Company
. Rather, Overton calls it "a fully immersive cultural center, featuring programming which will tap into people's passions such as art, music, entertainment, sports, wellness, culinary, technology and fashion, all powered and enriched by technology."

Mashable
got a sneak preview of the store and describes an area called the Selfie Station, where users are invited to take a photo of themselves with a Samsung smartphone. A few seconds later, that photo is projected onto the huge store screen for everyone to see.
Of particular note is the store's "Black Egg Installation tunnel":

Before you enter the tunnel, you're instructed to enter in your Instagram handle. Then you walk through a tunnel where all of your photos, hashtags and Instagram descriptions are projected against screens that literally cover the entire space. The floor and ceiling are mirrored, giving off a truly sci-fi effect.

Despite the company downplaying the retail angle, store staff are available to guide customers through Samsung's online purchasing portal, while in a nod to Apple's Genius Bar concept, on-site technicians are on hand to troubleshoot tech problems.
In the first two weeks of opening, Samsung 837 will be host to exclusive programming including live DJs, Oscar-nominated movie screenings, and a private Oscar viewing party.
Yesterday, Samsung announced the Galaxy S7 and S7 Edge, the latest devices in its flagship line of smartphones. The phones will be available on all four major U.S. carriers from March 11, although it's unclear when (or whether) visitors to 837 will have the opportunity to test them out in-store.