Customers Start Receiving Replacement USB-C Cables From Apple
Last Friday, Apple launched a worldwide replacement program for faulty USB-C charge cables produced from April to June of 2015 and sold either as a standalone product or alongside the 12-inch Retina MacBook.
At that time, Apple said it would automatically ship new replacement cables out to customers who supplied a valid mailing address when purchasing or registering their products, and as of today, customers have started receiving new USB-C cables. As shared on reddit, MacBook owner iPhonedo received a package from Apple that included a new USB-C cable and a letter explaining the USB-C cable replacement program.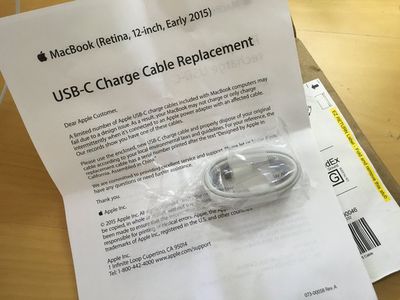 A fedex package was left by my door today. And inside of it, there was a new USB-C cable from Apple. Along with a letter that says some cables may be faulty. Referring to the USB-C Cable replacement program. This is very nice because it saved me from getting a Genius Bar reservation and a trip to the Apple store.
According to Apple, the first USB-C charge cables sold alongside the Retina MacBook can potentially fail due to a design issue. When used, these affected cables may cause the MacBook not to charge or to charge only intermittently when connected to a power adapter. Affected cables can be identified by their labeling, which reads "Designed by Apple in California. Assembled in China." Redesigned cables have the same text, but also include a serial number.



MacBook owners and customers who purchased a standalone USB-C charging cable can expect to begin receiving their replacement cables directly from Apple starting this week. Customers who believe they are eligible for a replacement but have not received a replacement cable or want to check on their status can contact Apple Support or visit the Genius Bar at an Apple retail store.
Apple launched the Retina MacBook in April of 2015, so problematic cables were sold for approximately two months before Apple introduced a redesigned version. Apple will replace affected USB-C charge cables until June 8, 2018.