Apple Now Selling Square's New NFC Reader for Apple Pay and Contactless Payments
Square has announced that its new NFC reader that enables small businesses to accept Apple Pay, Android Pay, and other contactless payments can now be purchased from Apple online or in U.S. stores for $49.
The reader is compatible with NFC-equipped smartphones, including the iPhone 6 or newer, and contactless EMV chip debit and credit cards based on technologies like American Express ExpressPay, MasterCard PayPass, and Visa payWave.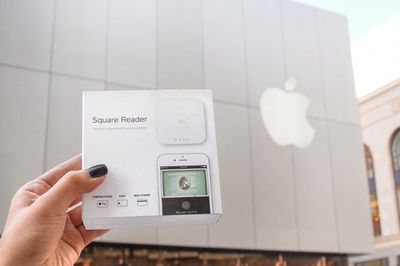 The small square-shaped reader functions like other NFC-enabled payment terminals, allowing users to wave an iPhone, paired Apple Watch, or contactless EMV chip card near the reader for a few seconds to complete a purchase.
The NFC reader, which connects wirelessly with iOS and Android devices via Bluetooth, also works with EMV chip cards that are inserted for Chip-and-Signature payments. Square includes a magstripe reader in the box for accepting traditional swipe payments as well.
Apple Pay is accepted at more than 1 million locations in the U.S., but its early rollout has mostly been limited to larger franchises. Square's new NFC reader, and similar products, will help expand Apple Pay to smaller businesses across the country.