Apple Ending Ad-Supported iTunes Radio Stations at End of January
As part of the winding down of its iAd platform, Apple today sent out a notice to customers who listen to its radio service letting them know the radio feature is being discontinued at the end of January.
In the email, Apple says that Beats 1 radio will be the only free listening option available to those who do not subscribe to the Apple Music service. Customers who listen to radio stations sans ads with an iTunes Match subscription are also receiving the emails and will no longer be able to listen to radio stations as an iTunes Match perk.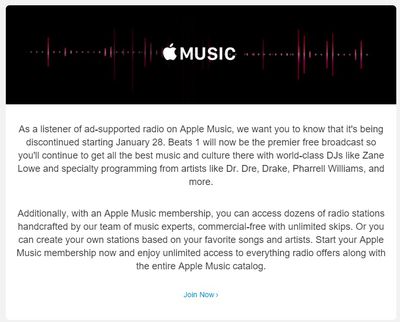 Apple has quietly continued to offer ad-supported iTunes Radio stations in the United States and Australia even after the launch of Apple Music, but with the end of its current iAd platform on the horizon, the feature will be limited to those who pay for Apple Music going forward. Customers in Australia are receiving emails stating the radio service will end on January 29, while U.S. customers are receiving emails that suggest it will no longer be available as of January 28.
Earlier this week, BuzzFeed reporter John Paczkowski said that Apple was working towards dismantling its in-house iAd sales team in favor of a more automated platform. This afternoon, Apple announced the end of its iAd App Network, and it's likely there will be additional changes to products and services as the iAd platform is revamped.