Swiss Manufacturer Creates High-End Mechanical Apple Watch Clone
Ahead of the Apple Watch's launch, many high-end Swiss watch makers were critical of its design and Apple's efforts to position it as a high-fashion item. TAG Heuer CEO Jean-Claude Biver went as far as to call it "too feminine," saying the Apple Watch looked like "it was designed by a student in their first trimester."
As time has passed, opinions on the Apple Watch have changed. It has prompted some high-end luxury watch makers to consider delving into the smart watch market themselves, and it also seems to be the inspiration behind high-end watchmaker H. Moser & Cie.'s latest product.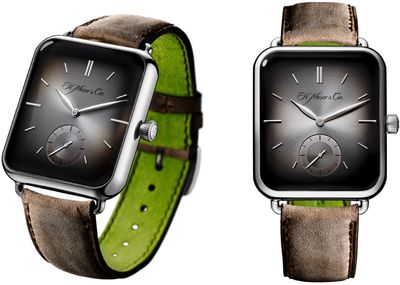 Shared today by watch site Hodinkee, H. Moser & Cie.'s Swiss Alp Watch has a design that's immediately familiar, featuring a rectangular watch face with curved, rounded edges, a crown at the side, and Apple Watch-style lugs for holding a band in place.
Constructed from solid 18-karat white gold, the Swiss Alp Watch measures in at 38.2mm by 44mm, with a depth of 10.3mm. That's comparable to the 42mm Apple Watch, which is 35.9mm by 42mm with a depth of 10.5mm. It comes with a beige kudu leather strap with a white gold pin buckle.
The resemblance between the Swiss Alp Watch and the Apple Watch is purely physical. There is no processor, no OLED display, and no sensors in the Swiss Alp Watch, which is entirely mechanical. When flipped over, there's no heart rate sensor -- instead, the inner mechanics of the watch (a finished tonneau movement with a Straumann hairspring, according to Hodinkee) are visible through a clear sapphire crystal panel.


H. Moser & Cie. does not mention the Apple Watch on its website or in its marketing materials, but when speaking to Hodinkee, H. Moser & Cie. CEO Edouard Meylan said the Swiss Alp Watch is symbolic, serving as a proof traditional mechanical watchmaking has a future in a world where the digital smart watch is becoming commonplace. Swiss watchmaking, he says, has weathered other challenges and it will continue on.
"Today, H. Moser & Cie. launches the Swiss Alp Watch as a statement of this new challenge and to prove that traditional mechanical watchmaking has a future, and it is, in fact, the future. It is much more than a watch for us. The Swiss Alp Watch is symbolic. It represents our resilience, our ferocious desire to fight for our values and traditions. It embodies everything we believe in."
Given that H. Moser & Cie. is pricing the white gold Swiss Alp Watch at $24,900 with only 50 pieces available, it's unlikely Apple will take offense over the copycat design.
The full story of the H. Moser & Cie. Swiss Alp Watch, which includes background color on the Swiss watch industry and hands-on details, can be read over at Hodkinee.