Honeywell Announces 'Lyric Round' Smart Thermostat With HomeKit Integration
Honeywell today announced its first HomeKit-enabled product, introducing a second-generation Lyric Round Wi-Fi-enabled thermostat with HomeKit support. Designed to compete with existing HomeKit-compatible thermostats like the ecobee3 and the iDevices thermostat, the Honeywell Lyric connects to a home's Wi-Fi network to allow the thermostat to be controlled via Siri or by using an iOS device and the accompanying app.
The new HomeKit-enabled Lyric thermostat is identical in design to the original Lyric thermostat, featuring a round body and a 3-inch polished glass face that clearly displays the current temperature and the target temperature. It includes a touch screen interface for changing the temperature directly from the device, and it offers motion-sensing illumination.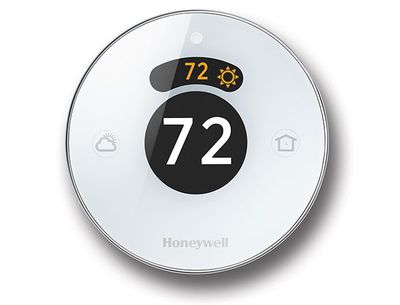 With the accompanying app, the Lyric can be controlled with an iPhone either at home or remotely, and with HomeKit integration, it will respond to Siri voice commands and interface with other HomeKit products. App-based features include location-based temperature control for automatic adjustment when a user is away from home, smart alerts for filter changes and extreme indoor temperatures, and intelligent comfort control that takes into account both humidity and temperature.
Honeywell's new Lyric Round Thermostat is priced at $249.99 and is available for pre-order from the Honeywell website starting today. Orders are expected to ship out at the end of January.