Apple Refreshes 'Start Something New' Campaign Worldwide
Apple has reintroduced its "Start Something New" campaign ahead of New Year's Day in the U.S., Australia, Belgium, Canada, France, Germany, India, Italy, Japan, Netherlands, New Zealand, Philippines, South Korea, Spain, Sweden, Switzerland, U.K., Vietnam and several other countries worldwide.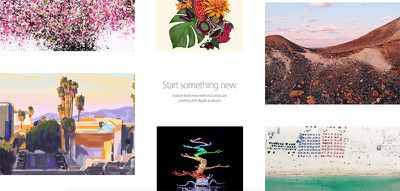 "Start Something New" features a gallery of nearly a dozen paintings, photos, drawings, short films and other pieces of creative work made by artists using Apple products and apps, ranging from the Apple Pencil, iMac and iPad Air 2 to Adobe After Effects, Darkroom and Procreate.
Apple has also shared individual profiles for each new work and artist on its website:
- Painting fluid landscapes by Lu Jun, China
- Painting with dots by Lieu Nguyen, Vietnam
- Chasing wild vistas by Emma Phillips, Australia
- Illustrating nature through its details by Tiffany Bozic, USA
- Drawing with light by Darren Pearson, USA
- Shooting from a new perspective by Bernhard Lang, Germany
- Visualizing the power of gravity by Greg Barth, UK
- Cultivating a different kind of rose by Kahori Maki, Japan
- Composing a sense of wonder by Jake Sargeant, USA
- Seeking color in the streets by Brian Lotti, USA
- Capturing the texture of movement by William Hundley, USA
Apple ran a nearly identical campaign in December 2014, starting in Japan and later expanding to the U.S. and other countries.