Facebook for iOS Gaining Support for iPhone 6s Live Photos Starting Today
Starting today, some Facebook users will be able to view Live Photos in their Facebook feeds using the Facebook for iOS app, reports TechCrunch. Introduced with the iPhone 6s and the iPhone 6s Plus, Live Photos are motion-enabled images that capture the moments just before and after a photo is taken.
Facebook plans to gradually roll out support for Live Photos, so while some Facebook app users will be able to post and view Live Photos as of this morning, others will not have access to Live Photos support until the beginning of 2016.
According to TechCrunch, uploading a Live Photo is done in the same way as uploading a regular photo, but there will be an option to choose whether to upload an image as a Live Photo or a regular photo during the uploading process. In a Facebook feed, Live Photos are denoted by a set of concentric circles and can be pressed to play.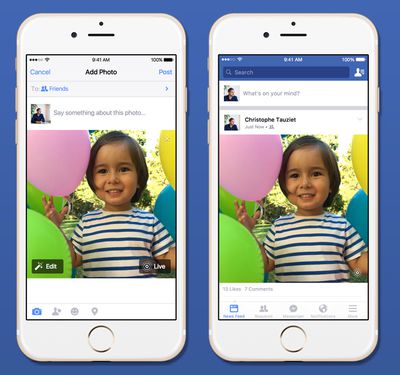 You'll have to tap that box manually with each Live Photo, and with good reason: once enabled on your iPhone, Live Photos are created with little to no thought on your part. It's easy to forget the feature is even on. Add in the fact that Live Photos include 1.5 seconds of video and audio from before/after the instant you hit that shutter button, and it's easy to imagine a scenario where you unwittingly capture something you… maybe don't want to make public. By making it opt-in with each photo, there's less of a chance you'll accidentally upload stuff you forgot was even there.
While only the iPhone 6s and 6s Plus can take live photos, all iOS devices running iOS 9 can view them in the Facebook app. All iPhones from the iPhone 4s on are capable of supporting iOS 9.
Facebook is the second major social network to implement support for Live Photos. Tumblr added support two weeks ago.