CarPlay Helping Some GM Dealers Close Deals on New Vehicles
CarPlay made its wider debut in a range of 2016 vehicles from over a dozen U.S. carmakers this month, including General Motors, Honda, Mercedes-Benz, Volkswagen and others, and Apple's in-dash software appears to be paying early dividends for at least one of those major auto manufacturers.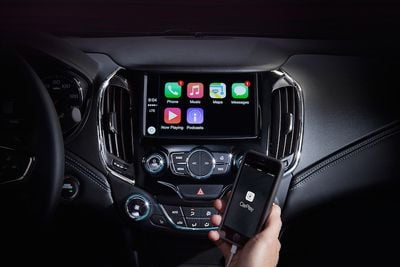 General Motors said it has "anecdotal evidence" that CarPlay, available in over two dozen 2016 Buick, Cadillac, Chevrolet and GMC models, is helping sell new vehicles to customers, according to The Wall Street Journal. A pair of GM dealers confirmed CarPlay is "helping to close the deal" on purchases.
GM officials say they have anecdotal evidence of an impact, and agree the offering has been well-received. Phil Abram, executive director of connectivity an infotainment at GM, said customers have been asking for the feature for years and the company plans to expand it to as many more models as soon as possible. […]

"We've had people coming in because they've heard about it, and once they see it, they really do like it because it mirrors the look and feel of the devices they use," said Chris Hemmersmeier, chief executive of a chain of Jerry Seiner Dealerships in Salt Lake City, Utah. "It's helping to close the deal once they see it."
GM experienced sales growth during October and November, but the spurt cannot decisively be attributed to CarPlay. At the very least, GM's early adoption of CarPlay is helping draw some customers away from automakers that have yet to commit to the software platform, including the world's best-selling automaker Toyota.
Gavin McGrath, the general manager of Pat McGrath Chevyland in Cedar Rapids, Iowa, has been advertising CarPlay availability and it has drawn in customers.

"It certainly has helped us," he said. "The biggest thing that it has brought to the retail front is…navigation is going to cost $900 [to] $1,000 [as an option]. Here you have Apple CarPlay, and boom your nav is there. That has already helped us close deals."
Chevrolet supports CarPlay on all vehicles with 7-inch or 8-inch MyLink screens, including the 2016 Camaro, Colorado, Corvette Z06, Corvette Stingray, Cruze, Impala, Malibu, Silverado 1500, Silverado 2500HD, Silverado 3500HD, Suburban, Tahoe and Volt. Our list of 2016 U.S. CarPlay vehicles covers Buick, Cadillac and GMC models.