Mercedes-Benz Shares Full Lineup of 2016 U.S. CarPlay Vehicles
Mercedes-Benz has issued an internal announcement to U.S. dealers (via
C450 AMG
) that confirms CarPlay will be supported in a number of
2016 model year vehicles
starting with December 1, 2015 or January 8, 2016 production or later.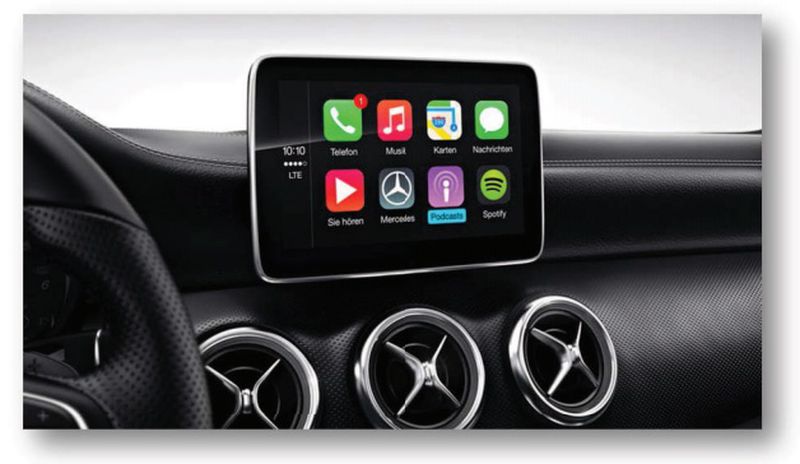 CarPlay can be controlled using the central controller or touchpad, if equipped, on supported Mercedes-Benz vehicles. Siri voice commands can be activated by pressing the voice control button on the steering wheel.
CarPlay works with compatible iPhones plugged into a specific USB port on supported Mercedes-Benz vehicles, labeled "2" below on the right.

Apple CarPlay® will be a completely different interface than the customary Mercedes-Benz infotainment. The customer will not be able to use the Mercedes-Benz headunit functions at the same time as CarPlay®. For example, use of the Spotify app cannot be done simultaneously with COMAND Navigation.
CarPlay is available in 2016 CLA, GLA and B-Class vehicles with December 1, 2015 production or later as a standalone $350 package or "Multimedia Package with Smartphone Integration" upgrade.
Apple's in-dash software is also available in the 2016 E400 Coupe, E550 Coupe, E400 Cabriolet, E550 Cabriolet and CLS400 Coupe with December 1, 2015 production or later with the "Premium 1" or "Premium 2" equipment package ($3,650-$4,080).
CarPlay is included standard with COMAND Navigation in 2016 CLS550 Coupe and CLS63 S Coupe models with December 1, 2015 production or later, and 2016 GLE400, GLE450 Coupe, GLE63 and GLE63 S models with January 8, 2016 production or later.
Mercedes-Benz 2016 U.S. CarPlay Vehicles
December 1, 2015 or Later

- 2016 B-Class
- 2016 CLA
- 2016 CLS400
- 2016 CLS550
- 2016 CLS63 S
- 2016 E400 Coupe
- 2016 E550 Coupe
- 2016 E400 Cabriolet
- 2016 E550 Cabriolet
- 2016 GLA

January 8, 2016 or Later

- 2016 GLE300d
- 2016 GLE350
- 2016 GLE400
- 2016 GLE450
- 2016 GLE63
- 2016 GLE63 S
CarPlay provides hands-free or eyes-free access to Maps, Phone, Messages, Music, Podcasts and other third-party apps including Spotify, Rdio, iHeartRadio, CBS Radio and MLB At Bat. The platform also uses Siri voice control and interfaces with your vehicle's knobs, dials and buttons for safer access to common iPhone features.
CarPlay is or will soon be available in a
wide range of 2016 U.S. vehicles
from Audi, Buick, Cadillac, Chevrolet, Ferrari, GMC, Honda, Hyundai, Kia, Mercedes-Benz, Mitsubishi, Porsche, Volkswagen and Volvo. Apple lists over a dozen other committed
CarPlay partners
on its website.
CarPlay is compatible with the iPhone 5 or later running iOS 8 or newer.