MasterCard Offers Apple Pay Users Free Public Transit in London Starting Today
In an effort to increase adoption of contactless payments, major credit card issuer MasterCard has launched a limited time "Fare Free Mondays" promotion, offering free public transit to Apple Pay users in London on Mondays between November 23 and December 14, 2015.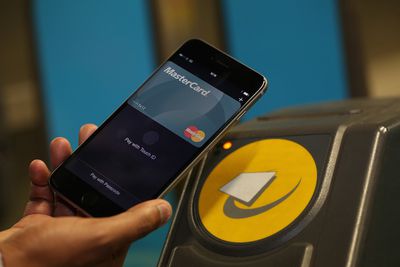 Starting today, and on the next three Mondays, MasterCard customers using Apple Pay to touch in and out on London's public transit network will have up to £27.90 in daily fares refunded by MasterCard. The promotion is valid for travel on the Tube, buses, tram, DLR, London Overground and most National Rail services in London.
Mark Barnett, president of MasterCard UK&I:
"The move by TfL last year to accept contactless cards and devices on London Underground has been a phenomenal catalyst to the growth in contactless payments across the UK. Now that Apple Pay has arrived we want to encourage travellers on London's transport network to try it out and give them another convenient option to pay for their travel. What better way to do this, than to offer MasterCard customers using Apple Pay the chance to travel for free over the next four consecutive Mondays."
MasterCard competitor Visa today also unveiled a new Apple Pay "Ready" campaign in Europe, including two TV ads from agency Saatchi & Saatchi that highlight how fast, easy and reliable using a Visa card in Apple Pay is in everyday situations such as paying to use the Tube or in a cafe.
Apple Pay
expanded to the U.K. in July
and is accepted at more than 250,000 locations across England, Scotland, Wales and Northern Ireland. The iPhone-based mobile payments service recently gained
support for Tesco Bank and TSB
in the country alongside over 90 new U.S. issuers.