More Apple Stores Begin Receiving Very Limited Stock of Apple Pencil
While the iPad Pro launched nearly a week ago, many early adopters have been unable to get their hands on the companion Apple Pencil. With shipping estimates of 3-4 weeks or longer for the accessory on the Apple Online Store, some prospective buyers have been checking their local Apple Retail Stores for stock and tracking their results in our discussion forums.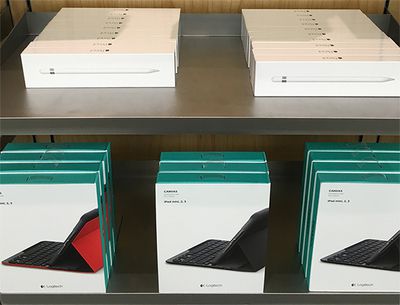 Apple Pencil stock at SoHo Apple Store in New York City earlier today
Beginning early Tuesday, it appears that more Apple Retail Stores in the U.S. have begun receiving very limited Apple Pencil stock.
MacRumors
forum member JuanKr shared the above picture of Apple Pencil stock at the SoHo Apple Store in Manhattan, New York, while we have independently confirmed Apple Pencil stock as of writing at the Oakridge Apple Store in San Jose, California.
MacRumors forum members have shared a handful of other Apple Stores with Apple Pencil stock over the past 24 hours, listed below, although some have since sold out and we cannot guarantee stock remaining at every store due to the combination of limited supplies and strong demand. We recommend calling your local Apple Store prior to visiting, but some customers have had better luck in person.
- SanTan Village in Gilbert, AZ
- Arrowhead in Glendale, AZ
- Burlingame Avenue in Burlingame, CA
- Los Cerritos in Cerritos, CA
- South Coast Plaza in Costa Mesa, CA
- Century City in Los Angeles, CA
- Manhattan Village in Manhattan Beach, CA
- UTC in San Diego, CA
- Union Square in San Francisco, CA
- Oakridge in San Jose, CA
- Valley Fair in Santa Clara, CA
- Park Meadows in Lone Tree, CO
- Evergreen Walk in South Windsor, CT
- Stamford Town Center in Stamford, CT
- Lenox Square in Atlanta, GA
- Boylston Street in Boston, MA
- CambridgeSide in Cambridge, MA
- Derby Street in Hingham, MA
- Bethesda Row in Bethesda, MD
- Crabtree Valley Mall in Raleigh, NC
- King Street in Charleston, SC
- Haywood Mall in Greenville, SC
- Fifth Avenue in Manhattan, NY
- Grand Central in Manhattan, NY
- West 14th Street in Manhattan, NY
- Easton Town Center in Columbus, OH
- Walnut Street in Philadelphia, PA
- Pentagon City in Arlington, VA
- Short Pump Town Center in Richmond, VA
- Bellevue Square in Bellevue, WA
- University Village in Seattle, WA
- Georgetown in Washington D.C.
The first batch of Apple Pencil online orders began shifting to "Preparing for Shipment" status earlier this week, while Smart Keyboards remain scarce both online and in stores. Most Apple Stores have plenty of Logitech Create keyboards available for the iPad Pro as an alternative.