First Apple Pencil Orders in the U.S. Now 'Preparing for Shipment'
Though the iPad Pro has been widely available in Apple retail stores since its launch last Wednesday, supplies of the Apple Pencil and Smart Keyboard have been much more limited. At launch, there were no Apple Pencils or Smart Keyboards available for purchase in the U.S. with in-store pickup, and the first online orders listed delivery dates of November 19 at the earliest, more than a week after the iPad Pro became available.
As of today, pre-order customers with some of the earliest upcoming estimated delivery dates are seeing some movement with their orders, receiving notifications that their Apple Pencils are now preparing for shipment. MacRumors reader Jose's Apple Pencil is preparing to ship with an estimated delivery date of November 20 to November 24, and there are a few other reports of Apple Pencil shipment changes on Twitter.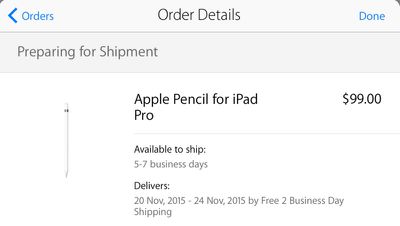 With orders already preparing for shipment, it's likely customers who managed to pre-order right around midnight on November 11 will start receiving their shipments later this week. A few customers in the United Kingdom have already received their Apple Pencil orders.
Customers who order an Apple Pencil online right now will not be able to receive the device until mid-to-late December, and the same goes for the Smart Keyboard, which is equally scarce. After the iPad Pro's midnight launch, delivery estimates for the Apple Pencil and the Smart Keyboard quickly slipped from late November into December.
Some Apple retail stores around the country have been receiving small Apple Pencil and Smart Keyboard shipments on a daily basis, but as Apple is not allowing in-store pickup for the Apple Pencil, it's not possible to use Apple's website or app to determine which stores have stock. Instead, customers hoping to get an Apple Pencil before December are having to visit their local Apple Stores on a daily basis hoping to get lucky with shipment timing.
The Apple Pencil, which enables pressure sensitive drawing on the iPad Pro, retails for $99. The Smart Keyboard is priced at $169.