Apple Expands Postmates Same-Day Delivery to Manhattan
Apple has expanded Postmates same-day delivery to Manhattan for most products ordered through the Apple Online Store and Apple Store app. The service is available for Mac, iPad, iPod, Apple TV, Apple Watch, Beats products, cables, accessories and many other items in stock at local Apple Stores for a $19 flat rate fee.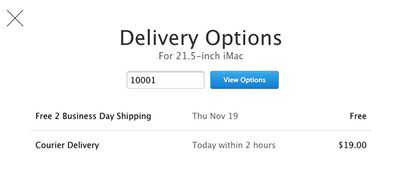 Most products are guaranteed to be delivered within a two-hour window, but select products may have longer same-day wait times. Customers that order through the Apple Store app are provided with estimated delivery times and tracking information as the product is transported from the Apple Store to the delivery location.
Apple's new Postmates same-day delivery option is available in most areas of Manhattan, including 37 of 43 zip codes based on our limited spot check. The service has limited coverage in northern neighborhoods such as Inwood and Washington Heights, and is unavailable on Roosevelt Island and in the other New York City boroughs of The Bronx, Brooklyn, Queens and Staten Island.


Apple launched Postmates same-day delivery in the San Francisco Bay Area in May. Customers who do not live in an area where Postmates delivers will not see same-day delivery options for Apple products, instead receiving only standard shipment delivery times without an option for courier delivery.
Postmates operates in several other major U.S. cities, including Los Angeles, Chicago, Washington D.C., Seattle, Boston, Philadelphia, Miami, Atlanta, Denver, San Diego, Portland, Phoenix, Austin, Houston, Dallas, San Antonio, Minneapolis and Charlotte, but same-day deliveries for Apple Online Store and Apple Store app orders appear to be limited to the Bay Area and Manhattan.
Apple products can also be ordered through the Postmates app in select U.S. cities.