Apple Store App Gains Postmates Integration With Same-Day Delivery
Apple is now offering same-day delivery of certain products in its Apple Store app, through a partnership with Postmates. In the San Francisco Bay Area, the Apple Store app is offering a same day delivery option on products that are available in local Apple Stores.
For example, ordering an Apple TV in the San Francisco Bay Area results in a four-hour same-day delivery window, as does an order for a Lightning cable. In some areas, like San Francisco, delivery turnaround times are as fast as an hour, but for some products, delivery times can take up to a day.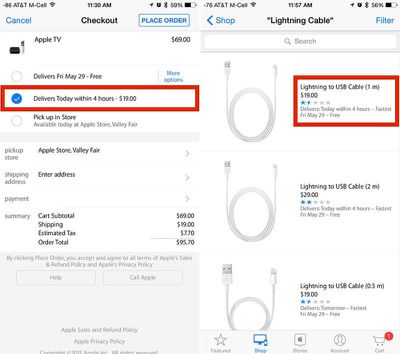 Customers who have Postmates delivery options available to them will see same-day delivery options listed whenever they search for a product that is available for purchase in a nearby Apple Store. After an order is placed, the Apple Store app offers live tracking options that let customers know where an item is and track it as it progresses from the Apple Store to the delivery location. The app also delivers notifications with estimated delivery times and tracking information.


Customers who do not live in an area where Postmates delivers will not see same-day delivery options for Apple products, instead receiving only standard shipment delivery times without an option for Courier Delivery.
Apple products have long been available for order through Postmates' own iOS app, but this is the first time that Apple's offered same-day delivery on orders in its own Apple Store app. Delivery price varies depending on location and the distance that needs to be traveled to transfer an item from the Apple Store to your doorstep. In our location in the South Bay, the delivery price was $19 regardless of what was ordered.
Postmates operates in several major U.S. cities, including San Francisco, New York, Los Angeles, Chicago, Washington DC, Seattle, Boston, Philadelphia, Miami, Atlanta, Denver, San Diego, Orange County, Portland, Phoenix, Austin, Houston, Dallas, San Antonio, Minneapolis, and Charlotte, but it appears that Postmates deliveries for Apple Store app orders may be limited in scope for the time being, available only in the San Francisco Bay Area.


Update: We received our Postmates Apple Store order within 35 minutes, much faster than the four-hour delivery estimate. According to our delivery driver, Apple's partnership with Postmates is brand new, with Postmates deliveries from the Apple Store app kicking off today.