Jony Ive: Apple Pencil Will Not 'Replace the Finger as a Point of Interface'
To promote the iPad Pro, Apple Pencil, and Smart Keyboard, several Apple executives gave interviews to a number of media outlets ahead of the release of the tablet and its accessories. Last week we shared a Jony Ive interview from The Telegraph where he spoke on the Apple Pencil, and today, Wallpaper has published a second Ive interview with even more of the design chief's thoughts on the stylus accessory.
Speaking on the conception of the Apple Pencil, Ive said that while it was originally "fundamentally important" to develop a user interface that was based on fingers, Apple discovered there were people who would benefit from an instrument that would enable more precise interactions for drawing and writing. Ive said developing the Apple Pencil and iPad Pro in tandem was essential for a natural drawing experience.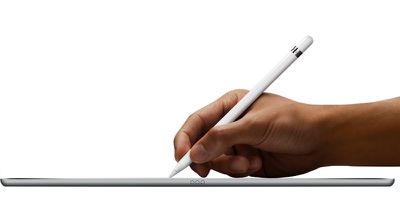 It was important that we develop the UI based upon multi-touch, based on our fingers. The reasons are obvious. I think it is equally obvious that you're just not as dexterous as you are with a pen or a pencil for certain things.

What we found is that there's clearly a group of people that would value an instrument that would enable then to paint or draw in ways that you just can't with your finger. And I suspect that this isn't a small group of people. I don't think it's confined to those of us who went to art school.
Ive went on to talk about the naming of the Apple Pencil, explaining that he preferred "Pencil" to "stylus" because stylus "seems a product that's about technology," while Pencil "seems very analogue in its association."
Apple has a specific role in mind for the Apple Pencil, and that is not as a finger replacement. According to Ive, the Pencil is for making marks, while the finger is to be used for other user interface interactions. Each tool has its purpose, with the Pencil serving as a "far better" way to make marks on the iPad Pro.
I think there's a potential to confuse the role of the Pencil with the role of your finger in iOS, and I actually think it's very clear the Pencil is for making marks, and the finger is a fundamental point of interface for everything within the operating system. And those are two very different activities with two very different goals.

So we are very clear in our own minds that this will absolutely not replace the finger as a point of interface. But it is, and I don't think anybody would argue, a far better tool than your finger when your focus becomes exclusively making marks.
For more of Ive's opinions on the Apple Pencil, his full interview is worth checking out over at Wallpaper. The Apple Pencil can be ordered from the online Apple Store for $99, but shipping dates range into late December. Apple retail stores have begun receiving larger Apple Pencil shipments as of today, so customers hoping for an Apple Pencil may want to seek one out in a store.