Lawsuit by Apple Retail Employees Over Off-the-Clock Bag Searches Dismissed
U.S. District Judge William Alsup today dismissed a lawsuit against Apple that had been brought by several retail employees over Apple's policy of conducting required security searches of personal bags without compensation after workers had clocked out for meal breaks or at the end of their shifts, reports Bloomberg. The class action lawsuit covered thousands of employees at Apple's California retail stores.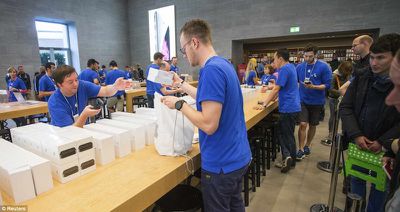 (Photo via Reuters/Hannibal Hanschke)
The ruling by a San Francisco federal judge Saturday releases the company from having to compensate as many [as] 12,400 former and current employees from 52 stores throughout the state a few dollars a day for time spent over a six-year period having their bags and Apple devices searched at meal breaks and after their shifts. A law professor who reviewed filings in the case estimated Apple could have been be on the hook for as much as $60 million, plus penalties.
In his ruling, Alsup noted that employees could have avoided the searches, as some employees did, by not bringing personal bags to work. The lawsuit had been restricted to California as the U.S. Supreme Court had previously ruled workers are not entitled to compensation for time spent in post-shift bag searches under federal law.
An attorney for the plaintiffs in the case reports they are weighing their potential next steps, which could include an appeal of Alsup's ruling.