Apple to Face Class Action Lawsuit Over Off-the-Clock Employee Bag Checking
Apple will face a class action lawsuit brought against it by retail employees in California who were subjected to ongoing bag checks that often caused them to remain at work for 10 to 15 minutes after their shifts had ended, reports Reuters.
Employees allege Apple subjected them to mandatory bag checks that were "embarrassing and demeaning," and were conducted off the clock, leaving them uncompensated for their time. The group is seeking damages for unpaid wages, unpaid overtime, and other recompense.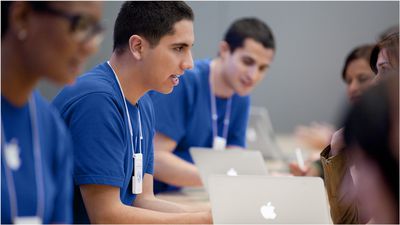 The lawsuit was first filed in 2013 and after some legal hurdles that included a 2014 dismissal, it was granted class action status today by U.S. District Judge William Alsup in San Francisco. Class members participating in the lawsuit include more than 12,000 of Apple's current and former employees in the state of California.
Amanda Friekin and Dean Pelle, the plaintiffs who filed the lawsuit, claim Apple's bag checks were mandatory each time a sales rep left the store and were put in place to discourage theft. Several employees subjected to these bag searches emailed Tim Cook in 2012, writing that managers were "required to treat 'valued' employees as criminals" and that the searches were often performed "in front of gawking customers."
Over the course of the past two years, Apple has argued that the case should not get class action status because not all managers conducted bag searches and that the bag searches that did happen took so little time that compensation was not necessary. Now that it has received class action status, the lawsuit will go to trial.