Walgreens Gearing Up for Apple Pay-Linked Loyalty Rewards Cards
One of the Apple Pay features touted with iOS 9 was support for new types of cards including store-branded credit cards and loyalty rewards cards from retailers. Just yesterday, department store chain Kohl's became the first retailer to launch Apple Pay support for its store-branded credit card, and it now appears Walgreens is preparing to launch support for its Balance Rewards loyalty rewards program.
Balance Rewards members have for some time been able to sign into their rewards accounts using the Walgreens iOS app and add their Balance Rewards numbers to the centralized Passbook/Wallet app. From there, it's been easy for users to bring up the Walgreens pass to display barcodes that can be scanned at checkout to make sure they receive rewards credit for their purchases.
As noted by several MacRumors readers, however, the Balance Rewards card in the Wallet app is now showing up as supporting NFC via Apple Pay. Double-clicking the iPhone home button to bring up Apple Pay cards offers access to the Balance Rewards pass, where the user is then prompted to authenticate with Touch ID and hold the phone near the NFC terminal at the register. Users can also opt to show a barcode for scanning if needed.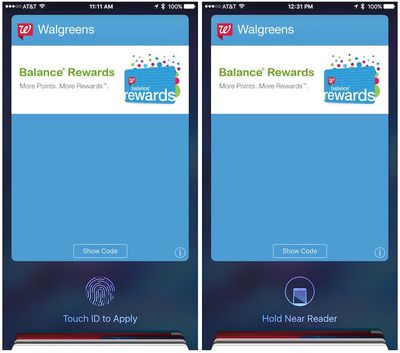 While the interface on the iPhone shows all signs of being ready to use Walgreens Balance Rewards via NFC, we and several readers have been unable to successfully use it in-store, as it appears Walgreens' payment terminals have yet to be upgraded to accept Balance Rewards using that method. In our testing yesterday, attempting to transmit a Balance Rewards card to the terminal via Apple Pay simply generated an error on the terminal noting the system was requesting a method of payment.
Walgreens Balance Rewards is also showing up as an Apple Pay option on the Apple Watch. Double clicking the side button of the Apple Watch to bring up available payment cards shows a Walgreens card that appears ready to use via NFC but similarly is not accepted by the terminal.


A barcode option as seen when the Walgreens pass is accessed directly from the Apple Watch's Wallet app is also available through the Apple Pay mechanism, although the overall presentation of the Walgreens card feels unfinished as it requires scrolling to access the barcode button via Apple Pay.
Late yesterday, Walgreens announced it plans to acquire rival Rite Aid in a deal that is expected to close in about a year to combine the largest and third-largest pharmacy chains in the United States. Rite Aid will initially operate as a wholly owned subsidiary of Walgreens with its own branding, although the two brands are likely to fully integrate over time.
Walgreens was a launch partner for Apple Pay payments back in 2014, but Rite Aid famously held out due to its contractual obligations with competing payments platform MCX/CurrentC, even going as far as to disable existing NFC payment support to prevent customers from using Apple Pay in its stores. Rite Aid reversed course in August as its exclusivity with CurrentC ended, adding support for Apple Pay in its stores.