Access to Past Beats 1 Radio Shows Now Limited to Apple Music Subscribers
Access to Apple Music's Beats 1: Replay feature, which allows users to listen to previously broadcast Beats 1 radio shows, is now limited only to Apple Music subscribers. MacRumors readers and users on reddit have both noticed a recent change that no longer allows those without an Apple Music subscription to access Beats 1 radio segments they've missed.
According to the reddit thread, past Beats 1 radio shows became inaccessible to non-subscribers approximately two weeks ago. The Apple Music Help Twitter account has confirmed that Beats 1 Replays now require an active Apple Music subscription.
@adrow You are correct. Beats 1 replays do require that you have an active subscription with Apple Music. — Apple Music Help (@AppleMusicHelp) October 30, 2015
The Beats 1: Replay feature was first
introduced in early August
when all Apple Music users were still under the free three-month trial period. It offers full show replays with guests, commentary, and music. Without access to Beats 1: Replay, those who do not subscribe to Apple Music will only be able to listen to missed Beats 1 radio content by catching it on the second playthrough, 12 hours after the first airing.
Attempting to access a past Beats 1 radio show via an artist's page now brings up an Apple Music login screen for non-subscribers, while subscribers are still able to access the content. Playlists are also inaccessible, but content uploaded to a Beats 1 radio DJ's connect page, such as select interviews, can be listened to without a subscription.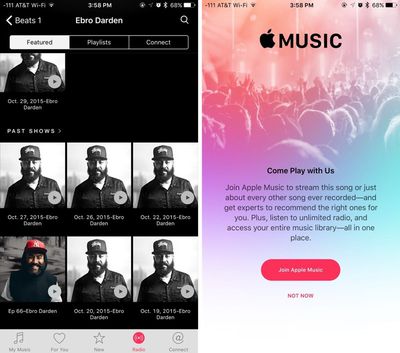 Access to past Beats 1 shows is not the only feature limited to Apple Music subscribers. Asking Siri questions about music charts, such as "What was the top song in March of last year?" is off limits to non-subscribers. Siri tells non-subscribers that an Apple Music subscription is required, likely because these music chart questions cause the song in question to begin playing.
Apple's decision to limit past Beats 1 shows to Apple Music subscribers has undoubtedly been done in an effort to encourage Beats 1 radio fans to purchase a subscription, which is priced at $9.99 per month for individuals and $14.99 for families. In a recent interview, Apple CEO Tim Cook said Apple Music had 6.5 million paying customers along with 8.5 million still on the free trial.
(Thanks, Adam!)