Tim Cook Talks Apple Watch, iPhone 6s, Apple TV, Cars, Privacy, and More at WSJDLive
Apple CEO Tim Cook is on stage for the opening night of the WSJDLive conference in Palm Springs, California, with Wall Street Journal editor Gerry Baker interviewing Cook about a variety of topics. Live coverage of the interview is being offered by publications including WSJ.D and The Verge, and we'll be updating this post with highlights from the session.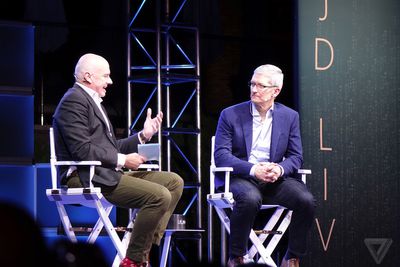 - On whether Apple wants to control every facet of our lives: Apple does very few products, and puts a lot of care into them, but Apple does want you to have a seamless experience throughout your home and work life.
- Citing competitive reasons, Cook once again declines to share Apple Watch sales numbers. "We shipped a lot the first quarter, then last quarter we shipped even more. And I can predict this quarter we will ship even more." Addressing Baker's skepticism about the device, Cook refers to customer satisfaction being "off the charts."
- Talking now about iPhone 6s and the iPhone Upgrade Program, Cook insists it's not meant to compete with carriers. It's simply a plan for people who want to get a new iPhone every year. Addressing the need to keep innovating on iPhone and whether Apple is on a two-year cycle as it appears to many people, Cook stresses all of the new features included on the iPhone 6s.
- Cook says Apple Music has 6.5 million paying customers and 8.5 million more still on free trials. Cook stresses the human curation aspect of Apple Music and notes the company feels "fantastic" about customer uptake so far.
- Regarding Apple TV, Cook sees it as a "foundation" for a new type of experience as Apple tries to fix the "broken" experience of watching television. With Apple TV, providers like HBO can sell directly to consumers. The current system of "linear TV" with channels needs to be "brought up and modernized" and apps will help do that.
- Apple TV orders will kick off on Monday, October 26 with shipments beginning by the end of that week.
- Baker asks about Apple's car project, but Cook hesitates to say much. He does admit that software becomes increasingly important, and that enables other shifts like electrification and autonomous control. But in the short term, Apple wants people to have the iPhone experience in the car. "We'll see what we do in the future."
- On the retail front, Cook notes Apple will have 40 stores in China by the end of next year, and China currently provided in the "mid-20s" percentage of Apple's revenue. Angela Ahrendts has also been focused on integrating online and in-store shopping experiences.
- Cook and Baker talking about user privacy, with Cook giving his usual comments about how privacy is a key value for Apple but that the company believes it can still provide an excellent customer experience and services while maintaining that privacy. In response to a question about Apple's relationship to national security organizations, Cook says he is "very" comfortable with it and he shares the company's views that any software backdoors are unacceptable and encryption is a necessity. A rather tense debate about the tradeoff between privacy and national security ensues.
- Final question of the interview is about Apple increasing its willingness to speak out on issues and take leadership roles, and Cook notes Apple has a "responsibility to be a great global citizen." Cook points to the environment, human rights, and education as areas where it can lead. Cook says Apple has stepped up its efforts to "leave the world better than we found it" because "government isn't working well." Cook says Apple isn't worried about alienating customers with its stances, noting the company isn't forcing its views on anyone, and he hopes people who may be upset with Apple's positions in these areas can still think Apple makes great products and respect Apple for making efforts to put its values into practice.