New 'Beats 1: Replay' Feature Lets Users Listen to Full Replays of Missed Shows
Apple's Beats 1 radio station was recently updated to give users access to full replays of radio segments, with a new Beats 1: Replay feature. As highlighted by MacStories, Replay covers several Beats 1 shows, including those by Zane Lowe, Julie Adenuga, and Ebro Darden, letting users re-listen to a missed segment.
Since Apple Music's debut, there's been an option on Beats 1 radio to listen to playlists of songs by each DJ after a show ends, but there was often no way to listen to a full show with guests and commentary unless you caught it on the second playthrough, 12 hours after it first aired.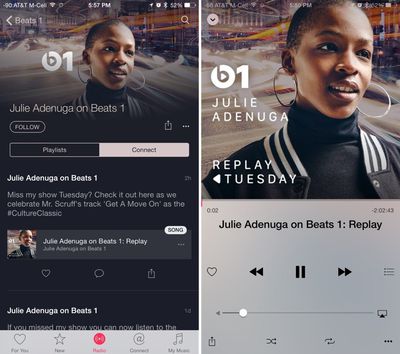 With the change implemented in the last few days, Beats 1 users can access both a full replay that's the same as listening to a show live and a playlist of songs from each program.
Though a feature that's likely going to be welcome by many Beats 1 listeners, Replay is somewhat hidden. Re-recordings of shows can be accessed by tapping on the Beats 1 logo in Apple Music to open the list of featured shows, tapping on a DJ, and going to the "Connect" page. Alternatively, it's also possible to search for an individual DJ to access their Connect section, or to search directly with a term like "Julie Adenuga Replay."
Tapping on the "Beats 1: Replay" option will play the entire show in one long block, with no option to see the songs that are playing as is possible when Beats 1 radio is playing live. As MacStories points out, it's akin to listening to one long podcast. Replaying a show eliminates the ability to heart songs and add them to playlists to enhance the Apple Music listening experience, but it does give users a way to listen to one-of-a-kind content and commentary that would have previously been missed.
Since Apple Music launched, Beats 1 radio has featured a near-endless stream of exclusive content, worldwide song debuts, and artist interviews, all designed to draw in listeners. The service's most recent exclusive was MTV's announcement of the 2015 Video Music Award nominees.