Phil Schiller Discusses Retina MacBook, Apple's 'Intense Collaboration'
Apple marketing chief Phil Schiller recently met with Mashable editor-at-large Lance Ulanoff for a rare interview, discussing topics ranging from the new 12-inch MacBook to Apple's "intense collaboration" that makes such products possible.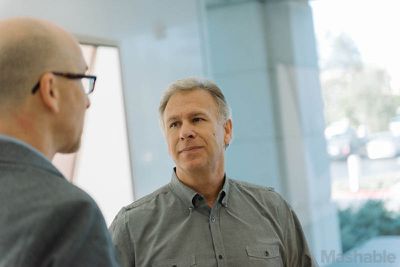 Schiller emphasized how Apple's process from product conception to production has greatly changed over the past few decades, as a result of "intense collaboration" between industrial design and engineering teams within the company.
"From the beginning, the Mac has been about Apple taking responsibility for the whole thing: hardware, software, how applications can work and, increasingly, Internet services. But that means something different today than it did 20 years ago," Schiller said.

"Today, those teams are not only integrated and designing something together, they're actually thinking of features that could only exist because of that integration and solving problems that could only be solved because of that unique advantage."
The interview provides a closer look at the new 12-inch MacBook, ranging from its ultra-small logic board to "speaktenna" combined speaker and antenna design, as an example of what's possible because of Apple's collaboration.

Some like to call it the "Speaktenna." The black strip along the back edge of the MacBook speakers is a never-before-tried combination of speakers and antennas for Wi-Fi and Bluetooth. […]

In the case of the speaktenna, Apple engineers did everything in their power to fit the maximum amount of technology possible into the tiny anodized aluminum chassis. This included creating new battery chemistry and forms to support a terraced battery design that marries perfectly with matching cutouts in the chassis. There's even a deeper level of terracing cutouts in the body that aren't for more battery power, but to cut down on the overall system weight.
Mashable's in-depth profile of Schiller goes into more detail about the 12-inch MacBook's design process, how collaboration will continue at Apple's upcoming Campus 2, the continued growth of Mac in a declining PC market and more.