Apple and Huawei Close Gap on Samsung in Global Smartphone Market
The latest numbers from research firm IDC show that Samsung and Apple continue to lead the worldwide smartphone market, but Chinese handset maker Huawei is placing increasing pressure on the industry giants after experiencing strong 60.9% growth compared to the year-ago quarter.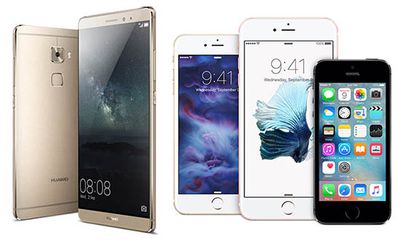 IDC's Worldwide Quarterly Mobile Phone Tracker reveals that Samsung continues to be the top smartphone vendor with 23.8% market share, shipping an estimated 84.5 million smartphones in the third quarter of the calendar year, compared to 23.9% market share and 79.6 million smartphones shipped in the year-ago quarter.


Apple trailed in second with 13.5% market share after shipping 48 million smartphones in the calendar third quarter, compared to 11.8% market share and 39.3 million smartphones shipped in the year-ago quarter -- a 22.2% year-over-year increase, which cut away at Samsung's market lead.
Apple's growth can be attributed to strong iPhone 6s and iPhone 6s Plus sales, which Apple says has led to the highest rate of Android switchers it has ever measured. The new smartphones set a record with 13 million sales over their September launch weekend. Apple released its complete FY Q4 financial results yesterday.
Huawei also closed the gap on Samsung and Apple due to strong growth in China and Europe. The Shenzhen-based company was the third-largest smartphone vendor, a position that previously belonged to Chinese rival Xiaomi, with 7.5% market share and 26.5 million smartphones shipped in the third quarter.
Lenovo and Xiaomi rounded off the top five largest smartphone vendors with nearly equal 5.3% and 5.2% market share respectively. Lenovo shipped an estimated 18.8 million smartphones, while Xiaomi shipped an estimated 18.3 million smartphones. All other vendors combined to ship an estimated 159.1 million smartphones.
Overall smartphone shipments totaled 355.2 million worldwide in the third quarter, up 6.8% from the 332.6 million units shipped in the year-ago quarter, marking the second highest level of smartphone shipments for a single quarter ever. The growth was driven by new flagship devices such as the iPhone 6s, Galaxy S6 edge+ and Galaxy Note5.