Apple Adds Carrier Billing to iTunes, Starting With O2 in Germany
For the first time since the iTunes Store launched in 2003, Apple has added a way for customers to pay for purchases without using a credit, debit or iTunes gift card. Starting with German carrier O2, customers can now link a phone number to their iTunes account and use carrier billing for purchases, per TechCrunch.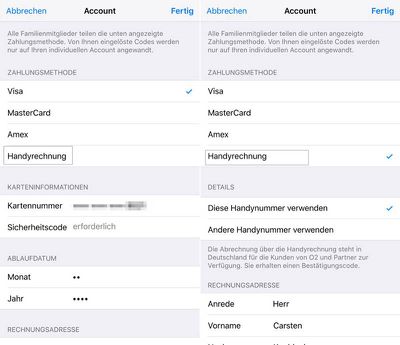 Apple's new mobile phone bill option for iTunes accounts (Image: Carsten Knobloch)
The new payment method enables customers to pay for apps, songs, TV shows, movies, iBooks and other iTunes content without needing a credit or debit card, or even a bank account. Instead, purchases are added to a customer's mobile phone bill and paid off at the end of the month.
Customers without a contract can have purchases debited from a prepaid amount applied to the iPhone.
O2 parent company Telefonica confirmed it is working on carrier billing with Apple:
"Telefónica Germany is working with Apple related to carrier billing," a spokesperson told us in an email. "Payment via the O2 phone bill is now available for Apple Music, iTunes, App Store and iBooks Store Purchases. The service is gradually being rolled out and will be available for all O2 customers (prepaid and postpaid) in Germany by the beginning of November 2015."
Apple may be working with carrier billing provider Bango, used by rivals like Amazon:
We have heard on the grapevine, however, that Apple has been talking for a while with Bango, a carrier billing provider, to roll out carrier billing functionality on iTunes.
TechCrunch believes Apple will expand carrier billing to additional markets in the future.