HTC Says 'It's Apple That Copies Us' After One A9 Called iPhone Lookalike
HTC has denied claims that its new flagship One A9 smartphone copies the iPhone. At a press briefing in Taiwan, company executive Jack Tong said that "it's Apple that copies us" in terms of antenna design—the Taiwanese handset maker was first to release a metal unibody smartphone nearly three years ago.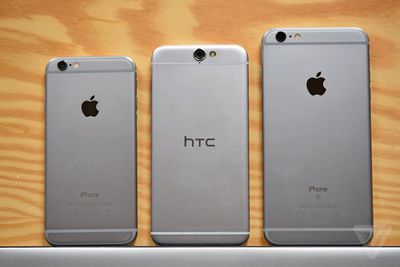 The HTC One A9 compared to the iPhone 6 and 6 Plus (via The Verge)
The response was reported by
Want China Times
(via
BGR
):
"We're not copying. We made a uni-body metal-clad phone in 2013. It's Apple that copies us in terms of the antenna design on the back," Jack Tong, president of HTC North Asia, said at a press briefing at the Taiwan launch of the One A9.

"The A9 is made thinner and more lightweight than our previous metal-clad phones. This is a change and evolution, and we're not copying," he said.
The original HTC One M7 launched in March 2013 with an aluminum unibody frame and plastic antenna lines along the top and bottom of the smartphone, both design cues that Apple adopted for the iPhone 6 and iPhone 6 Plus, released 18 months later, and has since carried over to the iPhone 6s lineup.

The original HTC One with an all-metal unibody design launched in March 2013
The One A9 is considered an iPhone lookalike because it has a similar rounded chassis, plastic antenna lines and a protruding rear-facing camera, and because it is available in almost identical colors as the current iPhone lineup. The smartphone also has one speaker located next to the charging port on the bottom.
HTC's rebuttal comes after The Verge described the One A9 as "the most blatant and highest-profile iPhone ripoff since Samsung's original Galaxy S," a bold argument that has been contested by some HTC supporters. The copycat allegations have received significant media coverage this week.
Ultimately, while there is no denying that HTC's One A9 is an iPhone-driven evolution of the HTC One series, it is clear that both smartphone makers have borrowed similar design qualities from each other over the years. Apple has not commented on the matter, but has taken legal action against Samsung for copying in the past.
The
One A9
is HTC's latest flagship Android smartphone, featuring a 5-inch screen with a curved-edge display, 13-megapixel rear-facing camera, 1.5 GHz octa-core Qualcomm Snapdragon 617 processor, 3GB of RAM, 16GB or 32GB storage, Quick Charge 2.0 and Android 6.0 Marshmallow. The smartphone is available in a range of colors, including Carbon Gray, Opal Silver, Deep Garnet and Topaz Gold, for $399 unlocked.