Apple Launches New 4K & 5K iMacs, Magic Keyboard, Magic Mouse 2 and Magic Trackpad 2
Apple today announced that it has updated its iMac lineup, introducing new 21.5-inch iMac with Retina 4K Display and 27-inch iMac with Retina 5K Display models.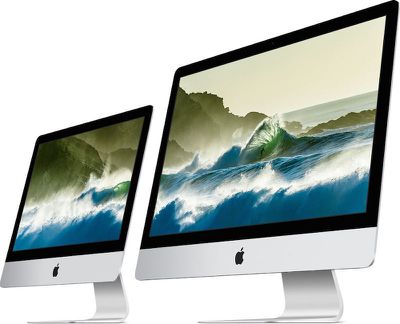 The all-new desktop computers feature faster processors and graphics, two Thunderbolt 2 ports and up to 2TB of Fusion Drive storage for stock configurations. The 4K 21.5-inch iMac has a 3.1GHz Core i7 Broadwell processor and integrated Intel Iris Pro Graphics 6200, while the 5K 27-inch iMacs have 3.2GHz to 3.3GHz Core i5 and i7 Skylake processors and dedicated AMD Radeon R9 GPUs.
"From the first iMac to today, the spirit of iMac has never wavered — deliver the ultimate desktop experience with the latest technologies, gorgeous displays and cutting-edge designs," said Philip Schiller, Apple's senior vice president of Worldwide Marketing. "These are the most stunning iMacs we've ever made. With our gorgeous new Retina displays, more powerful processors and graphics and all-new Magic accessories, the new iMac continues to redefine the ultimate desktop experience."
Apple has also launched all-new Magic accessories, including the Magic Keyboard, Magic Mouse 2 and Magic Trackpad 2.


The new Magic Keyboard, $99, features Bluetooth for wireless connectivity and a built-in rechargeable lithium-ion battery that charges fully in about two hours using a Lightning to USB cable. The redesigned keyboard has a reengineered scissor mechanism with 33% more key stability and a lower profile for more precise and comfortable typing.
The new Magic Trackpad 2, $129, features Force Touch and a larger edge-to-edge glass design with 29% more surface area. The new Magic Mouse 2, $79, also has a built-in rechargeable lithium-ion battery and redesigned internal structure that includes fewer moving parts. The trio of new wireless accessories are available through Apple and resellers today.
The new 4K 21.5-inch and 5K 27-inch iMac are available today through the Apple Store, Apple Online Store and select authorized resellers, with pricing starting at $1,499 and $1,799 respectively. Apple will also continue selling the non-Retina 21.5-inch iMac in two models starting at $1,099 and $1,299.
The new iMacs include a Magic Keyboard and Magic Mouse 2 in the box.