iOS 9 Users Having Issues With POP Email Accounts and Attachments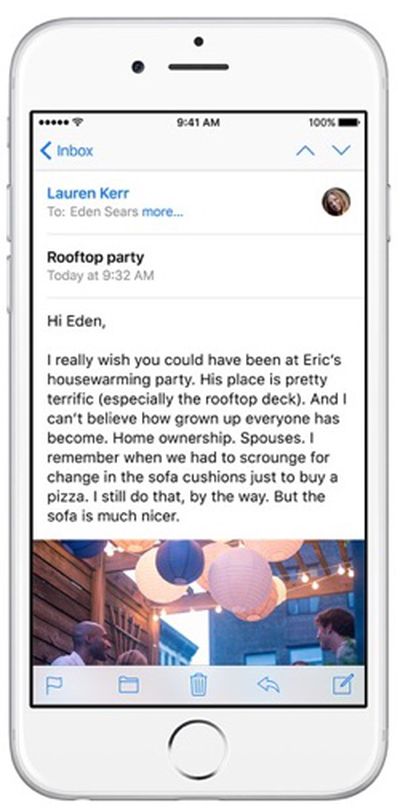 Since iOS 9 was released to the public on September 16, some users with POP email accounts have been having trouble opening emails with attachments. There's a 22 page thread on the Apple discussion forums covering the issue, which currently has more than 200 replies from users who are all experiencing the same problem.
Customers with a wide range of devices are receiving a "Message not yet downloaded from server" error whenever they attempt to open an email message with an attachment. The problem appears to be affecting Apple customers who have POP email accounts and is causing issues with both new and old emails.
I am having exactly the same issue. Many of my old mails on my iPad just saying not yet downloaded from the server. I am using a pop account on both my iPad and windows live mail. I have tried deleting my email accounts and adding back in. Even some emails that were received this morning are now showing as not being downloaded from the server.
Deleting email accounts and adding them back in does not fix the issue, but downloading an alternate email program from the App Store seems to have worked for many users as a temporary fix. Turning off Wi-Fi also allows some users to read their previously downloaded emails and access attachments, but images are not viewable.
One customer experiencing issues received a response from Apple's engineering team, suggesting the email issue occurs when an email account has been configured to remove a copy of emails on the server. This has left some wondering whether the behavior is an intended function or a bug, but while leaving messages on the server solves some of the problem, sent and trash emails remain unaccessible. The requirement to leave messages on the server also defeats the purpose of a POP email account.
This issue usually starts if one of the devices/computers that was setup with this email account has been configured to remove a copy of emails on the server. If this is the case, the customer will need to check the settings of all the devices and computers that are running this email account.

iOS leaves messages on the POP3 server by default. iOS never stores email permanently, whether POP3 or IMAP. If they are removed from the server by another device then this issue can occur.

A test that you may want to do to confirm this is to have the customer produce the error by opening one affected mail on the iOS device, and then locate that specific email on his webmail. If not found, then the device is behaving as expected. If found, please try to forward it to the same mailbox and see if the same issue occurs.
While these email problems have been plaguing users since iOS 9 was released, Apple did not fix the problem in iOS 9.0.1 or iOS 9.0.2, the two minor bug fix updates that have been released to the public since September 16. It is not clear if iOS 9.1, the first major update to iOS, fixes the issue, and Apple has not given any statement on whether some kind of fix is planned or if there's been an intentional change to the way POP email accounts work on iOS in iOS 9.