iPhone 6s Now Available SIM-Free in Apple Online Store
The iPhone 6s and 6s Plus are now available SIM-free in Apple's online store, allowing potential customers to buy an unlocked iPhone with no carrier attached. The new option was first spotted by MacRumors forum member Ternary. On its website, Apple explains the differences between a regular iPhone and a SIM-free one.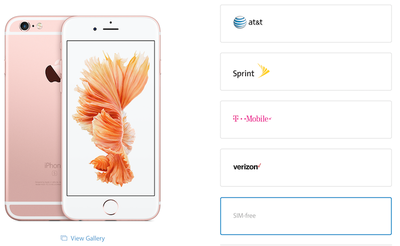 The SIM-free iPhone comes without a wireless contract commitment or carrier financing. It doesn't come with a nano-SIM card for iPhone 6s, iPhone 6s Plus, iPhone 6, iPhone 6 Plus, or iPhone 5s. And because it's unlocked, it isn't tied to one carrier, so you can get a nano-SIM from any supported carrier worldwide, such as AT&T, T-Mobile, Verizon, or Sprint in the United States.
Purchasing a SIM-free iPhone means that customers have to pay for the full price of the device upfront. It's ideal for customers who want to avoid multi-year commitments with carriers or for travelers who want to easily be able to switch to local carriers when traveling abroad. The SIM-free iPhone 6s is model A1633 while the iPhone 6s Plus is model A1634.