With OS X El Capitan available today to the public, some have begun discovering interesting tidbits and changes the new operating system has to offer. Twocanoes (via The Loop) has discovered that Boot Camp has gained the ability to install a Windows partition without a USB drive.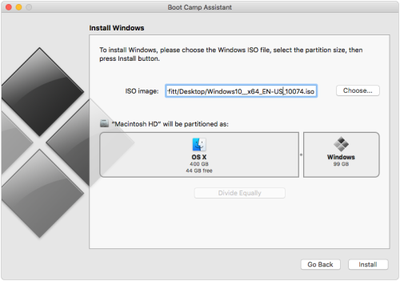 Boot Camp comes with a modified interface that places the ISO image selector and partitioning on a single screen, allowing a user to easily select an ISO image and partition their hard drive before installing Windows. Once Boot Camp Assistant completes its tasks, the computer restarts with the normal Windows installation processes.
The change comes from Apple reworking how many partitions Boot Camp Assistant creates, according to Twocanoes.

Boot Camp Assistant doesn't just create a Boot Camp partition, but also creates an additional partition called "OSXRESERVED" that is FAT32 formatted.  It places this partition right after the recovery partition, and before the Boot Camp partition...
The "OSXRESERVED" partition includes all the installer files, Boot Camp drivers and EFI files required for to create and boot the Windows partition. Once Windows is installed and the user boots back into OS X, the "OSXRESERVED" partition is removed and the space reserved for that partition is added back to the OS X partition.
The only El Capitan-running Macs that support the new USB drive-less Windows installation are the 11- and 13-inch MacBook Air, the 13- and 15-inch MacBook Pro and the Mac Pro.