Apple Bans iFixit Developer Account and Removes App After Apple TV Teardown
After the new fourth-generation Apple TV was announced on September 9, Apple provided developers with Apple TV Dev Kits to be used to create tvOS apps for the device. Teardown site iFixit took apart one of those Apple TV units meant for developers and has now run into some repercussions for doing so.
According to a post on the iFixit blog, the teardown, which unveiled all of the internal components of the new Apple TV, violated Apple's terms and conditions. As a result, iFixit's developer account was banned, leading to the removal of the iFixit app from the App Store.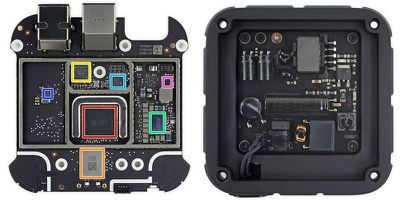 iFixit's Apple TV unit was sent directly from Apple with the same restrictions placed on Apple TV units sent to other developers, but iFixit ignored the fine print. "We weighed the risks, blithely tossed those risks over our shoulder, and tore down the Apple TV anyway," reads the blog post.
A few days later, we got an email from Apple informing us that we violated their terms and conditions--and the offending developer account had been banned. Unfortunately, iFixit's app was tied to that same account, so Apple pulled the app as well. Their justification was that we had taken "actions that may hinder the performance or intended use of the App Store, B2B Program, or the Program."

Live and learn.
With the iFixit app removed from the Apple Store, iFixit is instead planning to revamp its mobile website and does not have plans to rewrite the app. The decision to focus on the iFixit mobile site came before the app was pulled by Apple, so it was not a huge loss to iFixit. The site says the app was outdated and riddled with bugs caused by iOS 9.
Following the release of Apple TV Developer Kits, many other developers shared photos, unboxings, and feature tidbits about the device. It is unknown if Apple has also contacted these developers about non-disclosure violations.