Apple CEO Tim Cook recently sat down with India's Prime Minister Narendra Modi, where the two discussed topics like the expansion of Apple's manufacturing base into India, Apple Pay, and the recent launch of the iPhone 6s and iPhone 6s Plus (via The Times of India). During the talks, Modi invited Cook to open a new manufacturing base within India, to which the Apple CEO was said to have "responded positively," especially considering India's burgeoning app development business.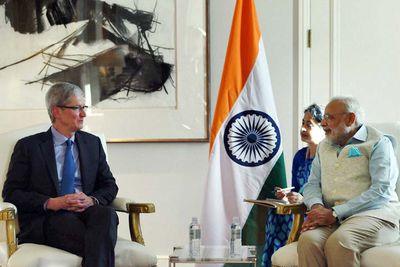 "Cook responded positively. I think India does fits into his long term plans. He particularly was interested in the whole App development economy, which he said could be a very very important factor for entrepreneurship where individual app developers can just become part of the app universe," Ministry of external affairs spokesman Vikas Swarup told reporters.

"As Apple expands its presence in India including a manufacturing presence there could be enhanced opportunity for app development related to the apple platforms," Indian Ambassador to the US Arun K Singh said.
Foxconn was previously reported to be looking at the possibility of an expansion into India to produce iPhones and iPads, but Cook's outspoken interest in the possibility marks Apple's first public interest in the expansion. The two also briefly discussed bringing Apple Pay to India, along with the new iPhone 6s and iPhone 6s Plus. Although the new iPhones were known to be coming to India by the end of 2015, this morning brought confirmation of the October 16 launch of the devices in the country, mentioned briefly in Apple's iPhone sales press release.
Cook also noted Apple's "unique tie" to India, pointing to Apple co-founder Steve Jobs' visit to the country and the inspiration he got from his stay there. The Apple CEO then voiced support of the Prime Minister's "Digital India" program, which aims to reduce paperwork and lagging networks by ensuring all government services are available to citizens online and bolstering rural areas with higher-speed internet connections.