According to a few sources out of the Dutch telecommunications industry, the iPhone 6s and iPhone 6s Plus will be launching in the Netherlands on October 2, with pre-orders for the release beginning a week earlier on September 25 (via iPhoned) [Google Translate].
The pricing for the new smartphones will be a bit different compared to the iPhone 6 and iPhone 6 Plus, with the 16GB version of the iPhone 6s and iPhone 6s Plus going for €749 and €849, respectively. That's €50 more expensive than last year's models, a statistic which keeps increasing with the addition of storage and choosing the Plus model over the normal version. As iPhoned points out, the most expensive 128GB iPhone 6s Plus model will now be €1,069.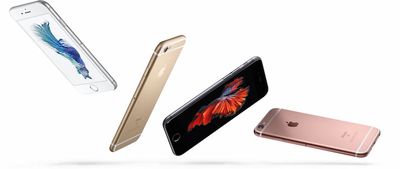 Along with the Netherlands, a report out of India last week suggested that Apple is accelerating the launch of the new iPhones in the country, which will directly face Samsung's decision to launch the newly announced Galaxy S6 Edge+ and Note5 in the same time window (via The Economic Times). The rumor states that Apple will try to launch the iPhone 6s and iPhone 6s Plus by October 10-11, which is about a month ahead of its initial plans for a November launch in India.

If the Apple India team manages to convince its Cupertino headquarters, it will be the fastest ever launch of any Apple product in India since announcement.

"An October launch will give it a significant time to align its marketing campaign well ahead of Diwali unlike last year when it got just a week for the same and also leveraging upon its expanded distribution coverage now as compared to an year ago," said Tarun Pathak, senior analyst at market tracker Counterpoint Research.
The new iPhones went up for pre-order over the weekend, and will launch next week on September 25 in the first-wave of launch countries including Australia, Canada, China, France, Germany, Hong Kong, Japan, New Zealand, Puerto Rico, Singapore, the UK, and the United States. Apple previously announced that it has plans for the iPhone 6s and iPhone 6s Plus to be in over 130 countries by the end of 2015, but hasn't given any specific names to the locations included in the next launch wave.