Samsung Debuts Galaxy Note5 and S6 Edge+ Phones, Preps for Samsung Pay and Gear S2 Watch Launches
At Samsung's big press conference today in New York, the company announced two new flagship smartphones: the Samsung Galaxy Note5 and the Samsung Galaxy S6 Edge+, both of which include large "phablet" sized screens that poise them to be direct competitors to the iPhone 6 Plus. They each include the same 5.7-inch display with 4GB of RAM, 16-megapixel rear cameras, and 5-megapixel front cameras, and even the ability to record 4K video.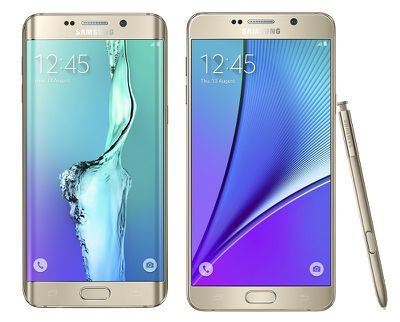 The Galaxy S6 Edge+ (left) with the Galaxy Note5 (right)
The Galaxy S6 Edge+ keeps its predecessor's curved screen design, but increases its screen size from 5.1-inches to 5.7-inches, which is even larger than the iPhone 6 Plus' 5.5-inch screen. Otherwise, the phone's internals are only slight bumps from the
last generation
, with the same rear and front cameras and only a slight RAM increase from the S6 Edge's 3GB.
The other phone announced today, the Galaxy Note5, is being aimed at a more enterprise-friendly market, with Samsung describing the smartphone as having an "unmatched set of productivity tools" with the traditional stylus removable from the bottom of the device. Samsung notes that today's upgrades confirm its commitment to the emerging larger-screened smartphone market, "which Samsung boldly pioneered in 2011 with the original Galaxy Note."


The company also
announced a new accessory
for each of the new smartphones unveiled today, a physical keyboard case that snaps over the phone's display, effectively covering the bottom portion of the 5.7-inch screen for the advantage of typing on a physical BlackBerry-like keyboard.
Once snapped on, the phone recognizes the accessory, and the OS shrinks itself accordingly. The case works in tandem with the phone's touch screen underneath it, so it doesn't require any additional battery or Bluetooth connectivity to function as key presses become sensed by the screen underneath the keypad when pressed down. Unfortunately, Samsung didn't provide any definitive release date or price for the accessory at today's event.


In addition to the new line of smartphones, Samsung provided more details on its own mobile payments service, Samsung Pay, which launches in Korea on August 20 and in the United States on September 28. The company noted that Samsung Pay will be pre-loaded on select Galaxy Note5 and Galaxy S6 Edge+ devices, with a free software update bringing the service to older-model Galaxy S6 and S6 Edge phones starting in mid-August.
The service's biggest difference from Apple Pay is that it will work at any standard checkout terminal with a magnetic stripe reader meant for traditional credit cards, contrasting with Apple Pay's need for a terminal with an NFC reader.

• SIMPLE: To make a payment on Samsung Pay, users can simply swipe up, scan their fingerprint and pay.

• SAFE: Samsung Pay uses tokenization, Samsung KNOX, and fingerprint authentication to provide secure payments and reduce the security risks inherent to plastic cards.

• VIRTUALLY ANYWHERE: With Magnetic Secure Transmission (MST) and Near Field Communication (NFC) technologies, Samsung Pay works with most existing point-of-sale (POS) terminals. That means it's the only mobile payment service that works virtually anywhere you can swipe your credit card or debit card.
Once it's set up, users will be able to initiate Samsung Pay from the lock screen and choose a credit card, authenticating their purchase with a passcode or the fingerprint scanner the company introduced with the original Galaxy S6 and S6 Edge. Since the service doesn't absolutely require NFC terminals, although it does work with them as well, users will just need to swipe their phone along the traditional slot made for tangible credit cards to see their payments go through with Samsung Pay.
Samsung also unveiled the first glimpse of a new Gear S2 Smartwatch at today's event, opting for a smaller and rounded watch face over the original Gear S' large, rectangular screen. The company didn't provide many more details besides a quick glimpse at the watch's design and basic operating system, which bears some resemblance to the apps seen on Apple Watch's watchOS. The company promised a full reveal for the smartwatch is to come sometime next month.


The Samsung Galaxy Note5 and Galaxy S6 Edge+ are globally launching today, and select United States customers who opt-in for one of the new smartphones -- or have an older-model Galaxy S6 or S6 Edge -- will be able to enter a beta trial of Samsung Pay starting on August 25. Both new phones will be available in White Pearl, Black Sapphire, Gold Platinum, and, the new option, Silver Titanium.