Apple Launching A9-Based iPhone 6s and 6s Plus With 3D Touch on September 25
Apple today announced the 4.7-inch iPhone 6s and 5.5-inch iPhone 6s Plus at its "Hey Siri" media event in San Francisco. The new iPhones feature an A9 chip and M9 motion coprocessor, 3D Touch, 12-megapixel rear-facing camera, 5-megapixel front-facing camera, stronger glass and Series 7000 aluminum, faster Touch ID, Live Photos and a new Rose Gold color option.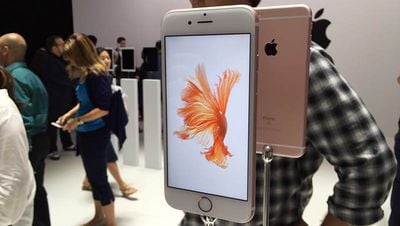 iPhone 6s and iPhone 6s Plus pre-orders begin on Saturday, September 12 at 12:01 AM Pacific ahead of a Friday, September 25 launch in the United States, Australia, Canada, China, France, Germany, Hong Kong, Japan, New Zealand, Puerto Rico, Singapore and the United Kingdom. The new iPhones will be available in over 130 countries by the end of the year.
iPhone 6s and iPhone 6s Plus are powered by an Apple A9 chip and embedded M9 motion coprocessor that deliver up to 70% faster CPU performance and up to 90% faster graphics compared to the A8 chip inside the iPhone 6 and iPhone 6 Plus.
3D Touch on iPhone is similar to Force Touch on Apple Watch, enabling users to make "peek and pop" gestures on the screen to access actionable shortcuts or preview content, such as text messages, flight information, calendar appointments and more. This feature received quite a lot of stage time at Apple's media event and is one of the key features of the iPhone 6s and iPhone 6s Plus.
The smartphones feature an improved 12-megapixel rear-facing iSight camera with 4K video recording and 5-megapixel front-facing FaceTime camera with true tone Retina Flash -- in low light, the front display will flash for a split second instead of traditional LED flash.
iPhone 6s and iPhone 6s Plus also have a second-generation Touch ID fingerprint scanner that is up to two times faster compared to Touch ID on previous iPhones.
The ninth-generation iPhones are crafted from Series 7000 aluminum and come in a new rose gold color, alongside silver, space gray and gold. Otherwise, the handsets look virtually the same as the iPhone 6 and iPhone 6 Plus.
iPhone 6s retails for $199/$299/$399 for 16GB/64GB/128GB respectively on a two-year contract. iPhone 6s Plus retails for $299/$399/$499 for 16GB/64GB/128GB respectively on a two-year contract. Carrier financing and leasing programs are also available through AT&T, Verizon, Sprint, T-Mobile and many other carriers worldwide.